Reading Time:
2
minutes
In this blog we will show you the steps to change a connection in OIC or how to change an existing connection in OIC. Let's begin.
In various scenarios, there is a need to replace existing connections within the integration design canvas. However, the canvas itself does not provide a direct mechanism for altering connections. Instances may arise where multiple connections point to the same integration, necessitating changes such as modifying connection names or migrating integrations from one instance to another. In these situations, it becomes essential to replace the connections within the integrations.
Prerequisites:
The integration in which changes needs to be made should not be active or in locked state.
The new connection should be of same adapter type and Role .
Please deactivate the integration and then click on Actions(hamburger icon). Go to Configure.

Once you click Configure below screen appears. Select the connection you want to replace and click on Replace
Here we are replacing connection BB_FTP_Connection.

Once you click Replace a search box appears with all the configured connection of same type.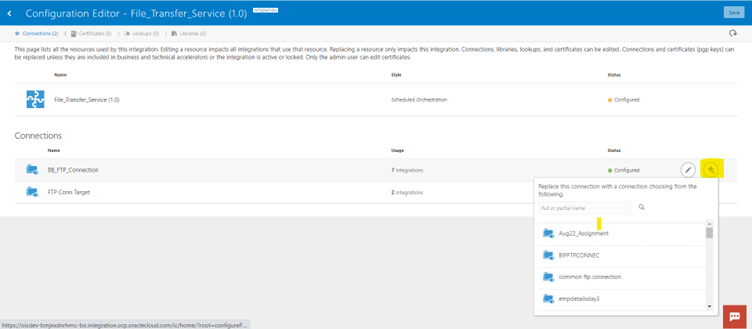 Select the new connection. The connection gets replaced. click on Save.
Here the new connection replaced is FTP Conn Target

Go back to the integration page to activate and test it.
If you have any questions or concern, kindly leave a comment below or contact us on business@conneqtiongroup.com.
Bushra has completed her B.E. in Computer Science from Raipur. She has good experience in VBCS, OIC, ERP, and databases. Bushra is working as an associate consultant at Conneqtion Group.
Related posts