Reading Time:
3
minutes
Creating a comprehensive oracle disaster recovery solution is important to ensure the continuity of a business operation even in the face of unexpected disruptions. Such a solution enables you to safeguard your critical data, applications, and processes hosted within the Oracle Integration platform.
In this guide, we will walk you through the key steps and considerations involved in configuring a robust disaster recovery plan for Oracle integration.
Key Takeaway for oracle cloud Disaster Recovery
Two Oracle integration instances in different OCI regions. This will ensure that your integrations are still available even if one region experiences a disaster.
A custom hostname and SSL certificate. This will allow you to route traffic to the secondary instance in the event of a failover.
A mechanism for migrating metadata between the two instances. This will ensure that your integrations are configured identically in both instances.
A plan for testing and rehearsing the failover process. This will help to ensure that you can recover your integrations quickly and efficiently in the event of a disaster.
Recommended for you: A Detailed guide to Oracle Integration Cloud
6 Components of Oracle Integration Cloud (OIC) Disaster Recovery
It is a structured approach that ensures the availability and resilience of your OIC environment, even in the face of unforeseen challenges. This plan encompasses a series of proactive measures, including the below six recommendations.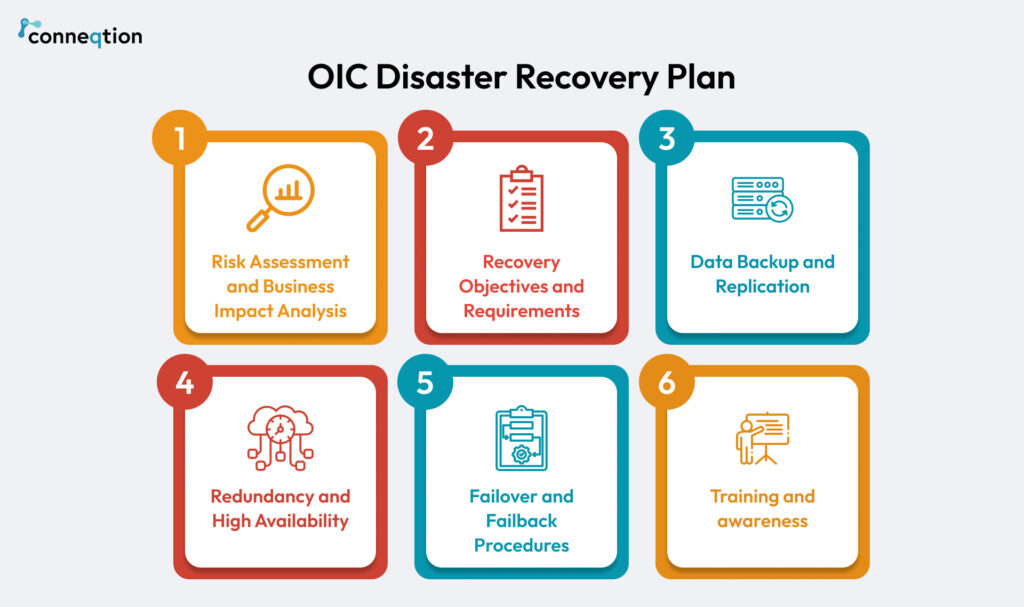 1. Risk Assessment and Business Impact Analysis
This involves identifying potential risks that could affect the Oracle Integration environment, such as hardware failures, cyberattacks, and more. A business impact analysis assesses the potential consequences of these risks for business operations. It helps to prioritize which aspects of the environment need more robust protection based on their criticality to your business.
2. Recovery Objectives and Requirements
Recovery objectives define what the targets aim to achieve during the recovery process.
Recovery Time Objective (RTO) specifies the maximum acceptable downtime.
Recovery Point Objective (RPO) denotes the maximum allowable data loss. These objectives guide the design of your disaster recovery plan and help determine the level of redundancy and data protection needed.
3. Data Backup and Replication
Data backup involves creating copies of critical data at regular intervals. In case of a disaster, these backups are used to restore your environment. Replication takes this a step further by duplicating data and configurations in real-time to an offsite location. This ensures that you have an up-to-date copy of your environment ready for recovery.
4. Redundancy and High Availability
It involves setting up duplicate systems, databases, or infrastructure components to eliminate single points of failure. High availability strategies aim to ensure constant access to applications and services. By distributing workloads across multiple instances, regions, or availability domains, you can ensure that even if one component fails, the others can effortlessly take over.
5. Failover and Failback Procedures
This is the process of switching from primary environment to disaster recovery setup when a disruption occurs. Failback is the process of returning to the primary environment once it's restored. These procedures include step-by-step instructions for initiating and reversing these transitions while minimizing disruption and data loss.
6. Training
Disaster recovery plans are effective only if a team knows how to execute them. Training ensures that IT staff and relevant stakeholders understand their roles and responsibilities during a disaster. It's important to educate your employees about disaster recovery and how they can contribute to a smooth recovery process.
Oracle Cloud Disaster Recovery Best practices
Disaster recovery is an ongoing process that should be regularly assessed and refined to adapt to changing circumstances and technologies.
Establish Recovery Time Objectives (RTO) and Recovery Point Objectives (RPO) to guide your disaster recovery strategy.
Conduct regular testing of your disaster recovery plan to ensure its effectiveness and identify any potential gaps.
Implement automated backup solutions to ensure critical data is regularly backed up and can be restored quickly.
Distribute resources across multiple regions to ensure redundancy and availability even in the event of a regional outage.
Utilize database replication to maintain a synchronized copy of your data in another location, ensuring data integrity and availability.
Implement load balancers to distribute traffic across multiple instances, ensuring high availability and fault tolerance.
Leverage snapshot technology to create point-in-time copies of your resources, making it easier to recover to a specific state.
Maintain comprehensive documentation of your disaster recovery plan, including procedures, contacts, and escalation paths.
Conclusion:
By following best practices and considering key components, organizations can safeguard their critical data, applications, and processes hosted within the Oracle Integration platform. Through a multi-region setup, automated backups, redundancy measures, and well-defined failover procedures, the integrity and availability of your OIC environment can be maintained even in the event of a disaster. Get in touch with our team for more information.
An accomplished SEO specialist who has a passion for optimising digital landscapes. With over 4+ years of experience. She has worked on successful B2B and B2C projects. She holds a bachelor's degree in computer science. She believes that SEO is the key to unlocking the business potential.
Related posts