Reading Time:
4
minutes
According to recent research, the cost of downtime during an Oracle EBS to cloud migration is substantial, at an average of $100,000 per hour. Even a short period of downtime can result in significant financial losses. This article provides guidance on how to achieve a zero-downtime migration, including best practises and additional information.
Primary Reasons for downtime during an EBS to cloud migration
As per Gartner insights, 70% of businesses that migrate to the cloud experience some downtime. This downtime can be caused by three major reasons. Check out it below.
Human errors
Human errors are the most common cause of EBS migration incidents. This is because there are many steps involved in an EBS migration, and it is easy for someone to make a mistake. Such as creating a backup of the EBS environment, migrating and configuring it, and testing the environment.
Technical issues
This is the second most common cause of EBS migration incidents. This is because there may be technical problems that prevent the migration from being completed successfully. For example, a technical issue could occur if: The EBS environment is not compatible with the cloud platform, data corruption issues, or there are networking problems.
Inadequate planning
Inadequate planning is the third most common issue. This is because if the migration is not properly planned, there is a risk that something will go wrong. For instance, without identifying all the requirements of the migration, without having a clear plan for how the migration will be executed, and without testing the migration thoroughly.
Roadmap for a successful EBS to cloud Migration with zero downtime
It's crucial to have a properly implemented plan for a smooth EBS to cloud migration without any downtime. We recommend following a clear roadmap that outlines the necessary steps. By adhering to these guidelines, you can significantly enhance your chances of successfully completing the zero-downtime migration from EBS to the cloud.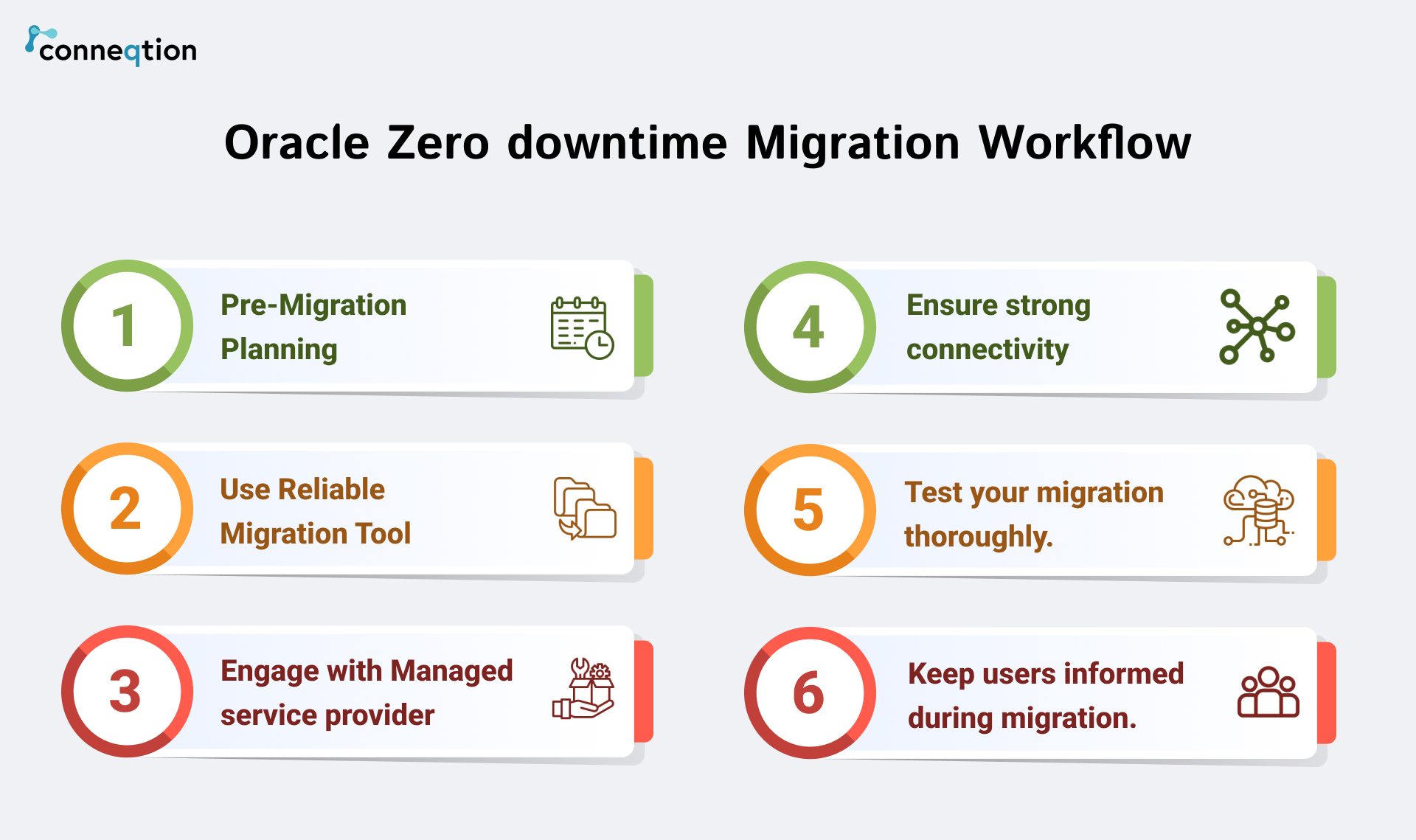 Pre-migration planning: This is a crucial plan when you start your migration. It involves thorough assessment, analysis, and preparation to ensure a smooth and successful migration.
Use a reliable migration tool: There are several different migration tools available, so it is important to choose one that is reliable and has a good track record. Some popular migration tools include Oracle Zero Downtime Migration (ZDM), Oracle Golden Gate, and Quest Software Migration Manager.
Engage with a managed service provider: A managed service provider (MSP) can help you plan and execute your migration. MSPs have experience with cloud migrations and can help you avoid common problems during the migration process.
Ensure strong connectivity: The migration will require a high-speed connection between your on-premises environment and the cloud. It's important to make sure that your network can handle the bandwidth requirements of the migration.
Test your migration: It is crucial to test your migration thoroughly before you go live. This will help identify any potential problems and ensure that the migration is successful.
Keep users informed during migration: It's most important to keep your users informed about the migration process. This will help to reduce anxiety and ensure that they are aware of any potential disruptions.
Perform zero-downtime migration with Oracle's ZDM Tool
These are the basic steps involved in performing a zero-downtime migration using Oracle's ZDM. To get a detailed view of this, use the oracle's ZDM tool documentation. By understanding these steps, companies can reduce downtime and guarantee a smooth migration process.

Source: Oracle.com
Step 1: Download and Configure ZDM.
The first step is to download and configure ZDM. This can be done by following the instructions in the ZDM documentation here.
Step 2: ZDM Starts Database Migration
Once ZDM is configured, you can start the database migration. This will involve creating a backup of the source database and transferring the backup files to the cloud.
Step 3: Connects the Source Database to the Object Store
The next step is to connect the source database to the object store. This will allow ZDM to transfer the backup files to the cloud.
Step 4: ZDM Orchestrates Transfer of DB Backup Files
ZDM will then orchestrate the transfer of the database backup files to the cloud. This process will typically take several hours or days, depending on the size of the database.
Step 5: ZDM Instantiates a Standby Database
Once the backup files have been transferred to the cloud, ZDM will instantiate a standby database. This is a copy of the source database that will be used to take over the production workload during the migration.
Step 6: ZDM Synchronizes Primary and Standby
ZDM will then synchronize the primary and standby databases. This ensures that the standby database is an exact copy of the source database.
Step 7: ZDM Switches Over and Swaps Roles
Once the databases are synchronized, ZDM will switch over to the standby database. This means that the standby database will become the production database, and the source database will become the standby database.
Conclusion:
To mitigate disruptions and financial losses, organisations must prioritise the steps mentioned. By addressing the primary sources of downtime, implementing employee best practises, and leveraging Oracle's Zero Downtime Migration (ZDM) tool, organisations can work towards achieving a seamless migration process. However, it is essential to seek out an experienced consultant to ensure a smooth migration. At Conneqtion, we offer extensive expertise in OIC and managed services, backed by years of experience in the field. If you're looking for an managed service, you can contact us to go move further.
An accomplished SEO specialist who has a passion for optimising digital landscapes. With over 4+ years of experience. She has worked on successful B2B and B2C projects. She holds a bachelor's degree in computer science. She believes that SEO is the key to unlocking the business potential.
Related posts