Reading Time:
6
minutes
When you think about the word "Company Culture", what comes to your mind? Culture is much more than offering free coffee and pizza on Fridays or access to gym membership and free therapy sessions.
At Conneqtion, we believe in having a harmonious work environment where all our employees work on a common goal, have similar values and a sense of belonging. For us, it has always been about the experience people have at the workplace and we find a way to integrate with our core messaging and branding. In a nutshell, culture is something that helps us create an immersive experience at the organization.
In this article, we will show what makes Conneqtion culture unique and the process that we followed to build a dynamic culture in the organization.
What is Conneqtion Culture?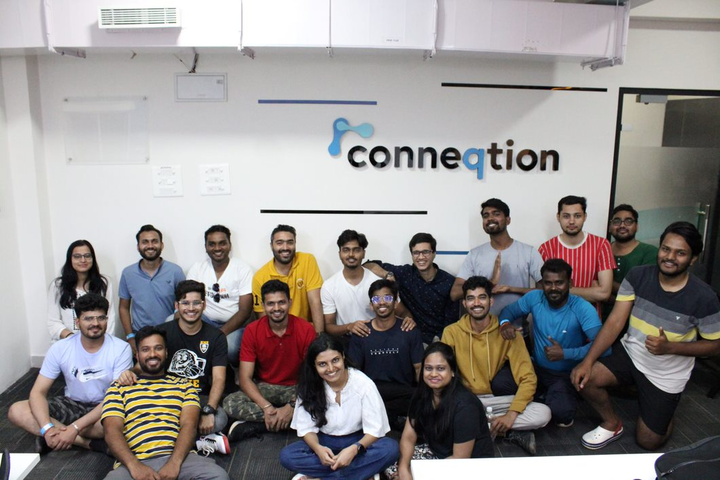 At Conneqtion, we firmly believe in the fact that great organizations are not simply built by an amazing leadership team but also by its employees who are instilled with incredible values, culture, mutual respect, and a raring potential to achieve bigger goals irrespective of cultural biases and competition.
Our team is proudly made up of some extraordinary, talented individuals who are masters in their own field and are willing to travel the extra mile to advance in their career goals and make "Conneqtion" a brand to reckon with. This involves a strategic process to hire employees who are not just good at the work that they do, but also have a moral and social responsibility towards their fellow teammates and the organization.
Conneqtion is a proud organization to have individuals from diverse religious and financial backgrounds, and this is reflected in our culture. Our team members are constantly looking out for each other whether it is getting used to working from the office, settling down in a new city, managing workload efficiently and bringing the best out of every single team member.
It is important for us as a team to work together in a way where we can utilize the strengths of every individual and encourage them to fail fast and learn more skills on the go to be able to go above and beyond for our customers and partners.
You may think, what is in it for an employee? Well, an employee working with Conneqtion gets a chance to work on challenging projects, hone their skills, take care of their health and wellbeing, understand their weak areas fast and get introduced to a platform to work on things that they never thought they could manage. At Conneqtion, we have always focused on building more leaders in the organization who can groom other leaders going forward.
The leadership team at Conneqtion encourages young team members to take on leadership roles which enables them to realize their true potential and showcase their leadership abilities. This has helped create healthy competition amongst other team members as these leaders have paved the way for the rest of the team to be better at what they do and how to lead from the front by setting the right examples.
Conneqtion Culture is built on a solid foundation of beliefs and attitudes about how things are done in the organization. We may not discuss it daily, but culture is always there in the background, and it largely impacts the kind of service that we strive to provide to our customers and partners.
What did we do to elevate our culture?
 1. Core Values
Conneqtion works on 5 key values namely Consistency, Commitment, Hardwork, Precision and Integrity. In the recruitment stage, we look for these values in the candidates and see if they can assimilate in our culture. It has helped us identify the "dos and don'ts" of business behavior.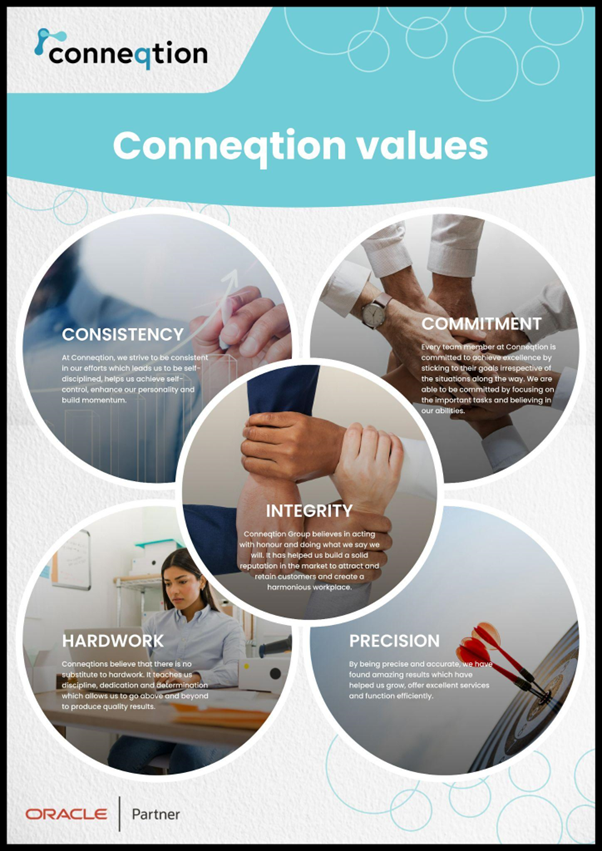 2. Relationship between Leaders & Employees
It is essential for the early success of any organization to have a close-knit relationship between the leaders and their team members. The leadership team at Conneqtion embraces the diversity of the team and supports them to unlock their true potential by creating an inclusive and supportive environment which is incremental to collaboration and collective growth. In order to do so, we support our employees in times of stress and encourage them to improve their performance by proper delegation of work and offering opportunities to grow in their careers.
Recently, we have introduced a concept of "Buddy" for new joiners who will assist them in understanding the work process and culture at Conneqtion. A new team member always needs a helping hand in the initial few weeks in any organization and by assigning them a buddy, we have tried to reduce their anxiety and ensure that they are engaged and thoroughly enjoy their work in the organization.
3. Fostering Accountability
The leadership team must lead from the front and pave the path for others. This leads to innovation, creativity and a hunger to try new ideas. If the idea works, there is a reward but if it fails, there is always something to learn. At Conneqtion, we don't win or lose. We either win or learn. It is possible only because the management and leadership team have the vision and risk-taking attitude to go beyond the usual and normal. In return, every individual takes his or her accountability seriously but works with utmost freedom and fearlessness.
4. Training & Development
We believe in continuous training & development of all individuals as it is the key to personal and professional growth. Fortunately, we have been able to create a culture to encourage, offer and recognize various training and development activities for the team. Due to this initiative, we have seen immense growth in our team members.
Every new employee at Conneqtion goes through multiple rounds of training depending on his/her skillset. The Reporting Managers provide the training related to their project/technology and there is additional training which is common to all. This training includes but is not limited to – communication skills, email writing, MS Excel etc. Moreover, the Fun-Friday organized at Conneqtion also aims to include collaborative games which helps in enhancing teamwork and communication skills of the team.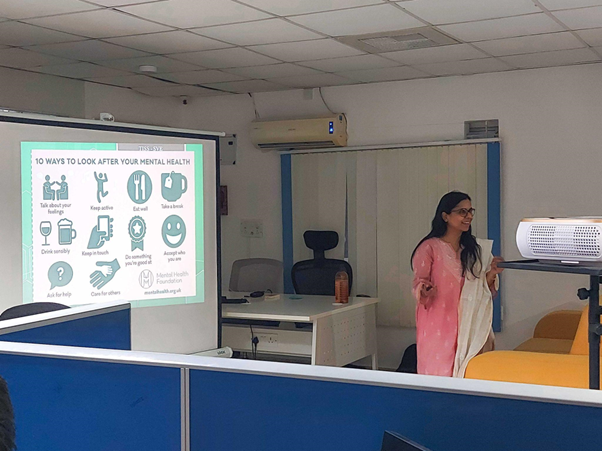 5. Being Socially Responsible
Since inception, Conneqtion has been a part of GiveIndia (Give Foundation). Now, we have started working on drives where our team can collaborate and volunteer on activities to help elevate the society. As a part of corporate social responsibility, we have partnered with a couple of different NGOs working with children, skill upliftment of differently abled individuals and environment. Each Conneqtion employee must decide the social cause they want to contribute to and volunteer for at a minimum of one day in a year.
6. Celebrate Together
In the last one year of setting up our development center in Bengaluru, we have established some rituals to celebrate employee recognition, birthdays, work anniversaries, major festivals, Fun Fridays and outings with our team. It allows us to unwind together and have informal chats to understand what individuals are going through in their lives. Conneqtion is a team which works hard and celebrates even harder.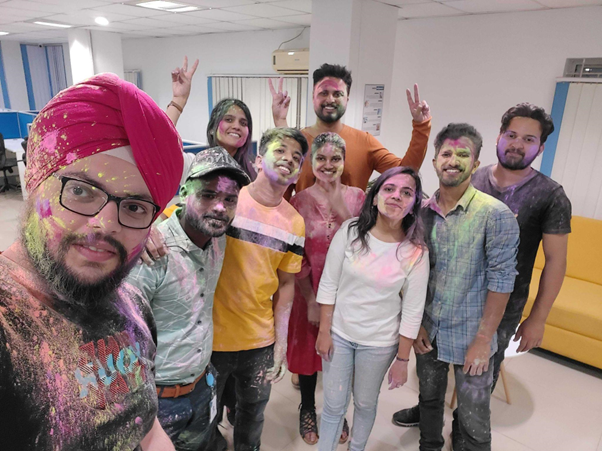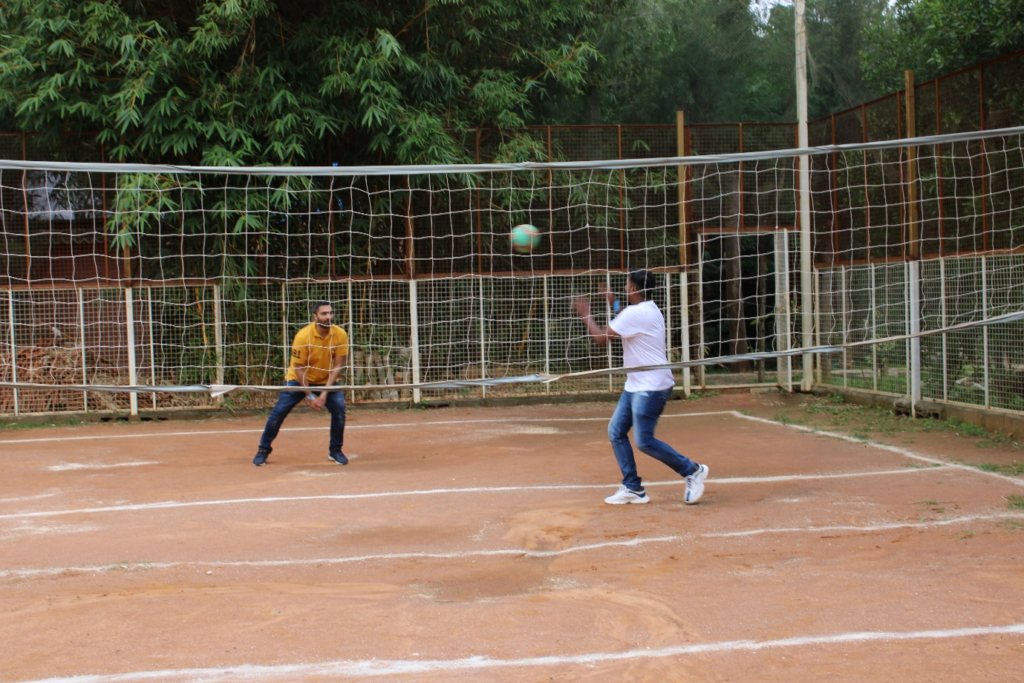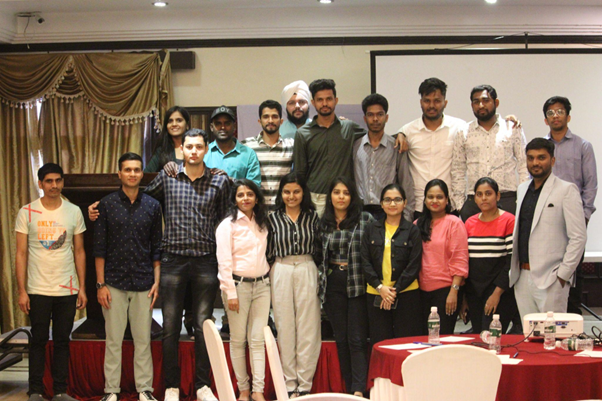 In conclusion, we would like to add that building culture in an organization starts with building trust and integrity which is a challenge, but the results pay off in the long run. What do you think about company culture? Please share insights about the diverse culture in your company in the comments below.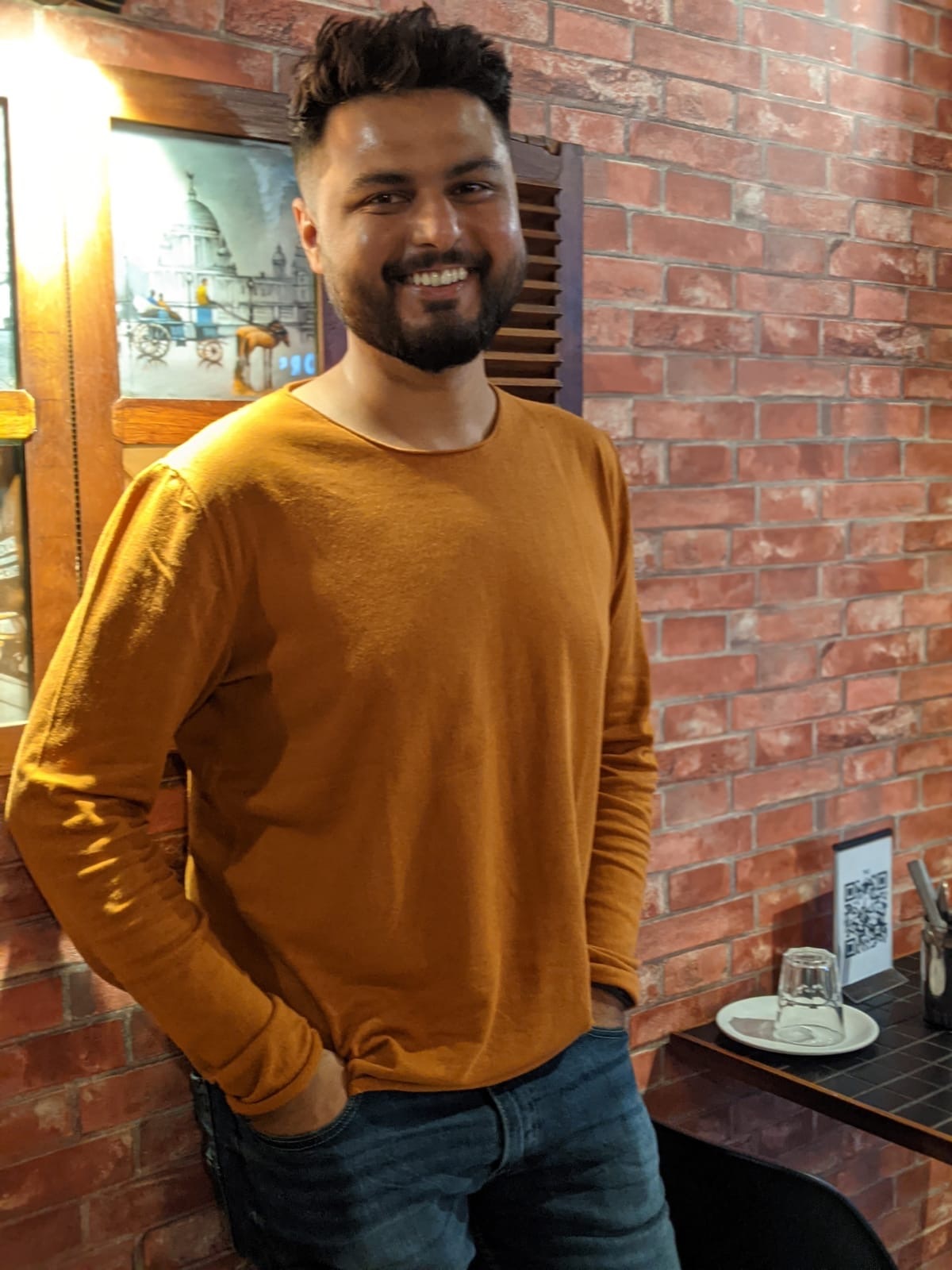 Dhruvil is a Marketing and Strategy Manager at Conneqtion Group, a Oracle iPaaS and Process Automation company. He comes with a vast experience of working in the Marketing, Branding and Content Marketing in various industries including IT service, SaaS, Natural Gases & Equipments, Food and United Nations. He has completed his MBA in Marketing from Western Sydney University and has worked for more than 7 years with Indian and Australian startups. He has a good acumen of business and marketing in the Indian startup ecosystem and has worked with BOC Gases, a leading Gas company handling their APAC Marketing.
Related posts