Reading Time:
4
minutes
In Short
Oracle Cloud infrastructure is a rapidly growing cloud platform that offers over 100 services.
Wide range of customers are using oracle cloud infrastructure including Zoom, FedEx, and Deutsche Bank.
OCI is constantly adding new features and services, such as the new Autonomous Database service.
It had a market share of 2.8% in the global cloud infrastructure services market in 2023.
OCI is a fully managed service, which means that Oracle takes care of the underlying infrastructure, so you can focus on building and running your applications.

What is Oracle Cloud Infrastructure?
Oracle Cloud Infrastructure in short its OCI is a comprehensive cloud computing platform. It provides a suite of cloud services designed to support businesses in developing, deploying, and managing different types of applications and workloads. Oracle cloud infrastructure offers infrastructure-as-a-service (IaaS) capabilities, allowing organizations to access virtualized computing resources, storage, and networking infrastructure in the cloud.
Key components of Oracle Cloud Infrastructure
Compute: It offers a variety of computer services, including virtual machines (VMs), bare metal instances, and container services. These services allow businesses to run their applications and workloads with flexibility and scalability.
Storage: It provides different storage options, such as block storage, object storage, and file storage. These services enable businesses to store, manage, and retrieve data efficiently and securely.
Networking: It offers networking services, including virtual cloud networks (VCNs), load balancers, VPN connectivity, and DNS services. These services allow organizations to establish secure and high-performance network architectures.
Database: It provides managed database services, including Oracle Autonomous Database, Oracle Database Cloud Service, and Oracle MySQL Database Service. These services offer scalable, reliable, and automated database solutions.
Security and Identity: It prioritizes security and offers robust security features, such as identity and access management (IAM), security zones, security monitoring, and encryption options, ensuring data protection and compliance.
Developer Tools: It provides a range of tools and services for developers, including developer environments, APIs, software development kits (SDKs), and CI/CD integrations. These tools facilitate application development and deployment in the cloud.
Analytics and AI: This offers services for data analytics, machine learning, and artificial intelligence. These services enable organizations to gain insights from their data and leverage advanced technologies for business innovation.
Advantages of Using Oracle Cloud Infrastructure for businesses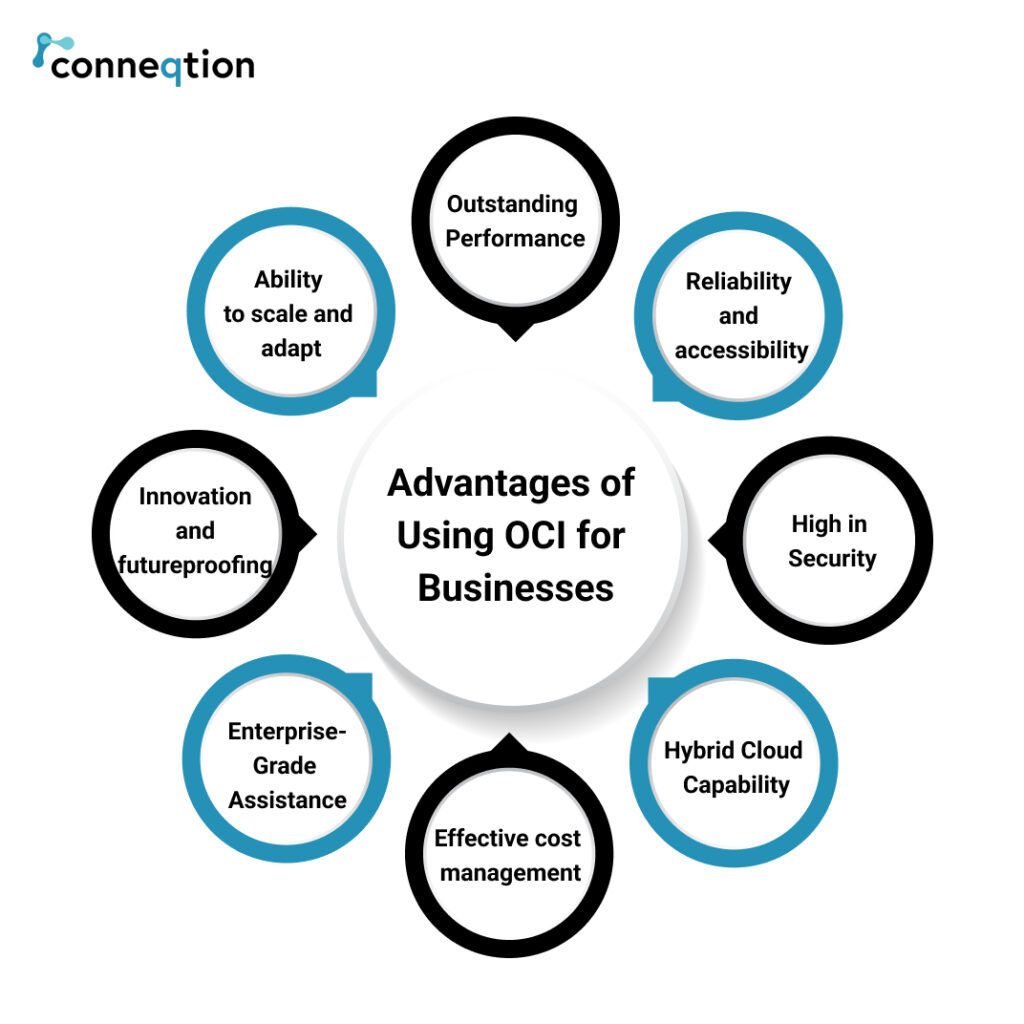 Oracle infrastructure cloud offers several advantages for the organizations who want to integrate their applications for more security and reliability.
Ability to scale and adapt
It provides businesses with the ability to scale their resources up or down based on demand. With elastic compute and storage options, organisations can easily handle spikes in traffic or adjust resources as needed, optimizing costs and performance.
Outstanding Performance
It is designed to deliver excellent performance for a wide range of workloads. It offers high-speed networking, low-latency storage options, and powerful computing capabilities, ensuring efficient and responsive operations for businesses.
Reliability and accessibility
It's built on a highly available and resilient infrastructure. It provides multiple availability domains within each region, ensuring redundancy and minimizing the risk of downtime. Additionally, built-in disaster recovery options and automated backups contribute to data protection and business continuity.
High in Security
Security is a top priority for OCI. It offers advanced security features, including identity and access management (IAM), network security groups, data encryption at rest and in transit, and comprehensive auditing and monitoring capabilities. Compliance certifications and adherence to industry standards further enhance the security posture.
Recommended for you – Why should you migrate your on premise workloads to OCI
Hybrid Cloud Capability
OCI supports hybrid cloud deployments, enabling businesses to seamlessly integrate their on-premises infrastructure with the cloud. This flexibility allows organisations to leverage existing investments while taking advantage of the scalability, agility, and cost-effectiveness of the cloud.
Effective cost management
This offers cost-effective solutions, allowing businesses to pay for only the resources they use. Flexible pricing models, such as pay-as-you-go and reserved instances, help optimise costs based on workload requirements. OCI's cost management tools and analytics also provide insights for effective resource allocation and budget control.
Enterprise-Grade Assistance
OCI provides enterprise-level support, including 24/7 customer service, technical assistance, and proactive monitoring. Businesses can rely on Oracle's expertise and global presence to address any issues or challenges they may encounter.
Innovation and futureproofing
OCI keeps pace with technological advancements, enabling businesses to leverage emerging technologies such as AI, machine learning, blockchain, and IoT. Regular updates, new services, and integrations ensure that organisations can stay at the forefront of innovation and drive their digital transformation initiatives.
Conclusion:
If you are considering using OCI, it is a powerful and versatile cloud platform that can help you achieve your business goals. OCI is a good choice when you are looking for scalable, cost-effective, secure, and innovative cloud platform. We at Conneqtion group have the Oracle Cloud Infrastructure Architect Professionals that help SMBs to Large scale businesses. If you want to work with our expert consultants, you can write a message to our team on our contact us page.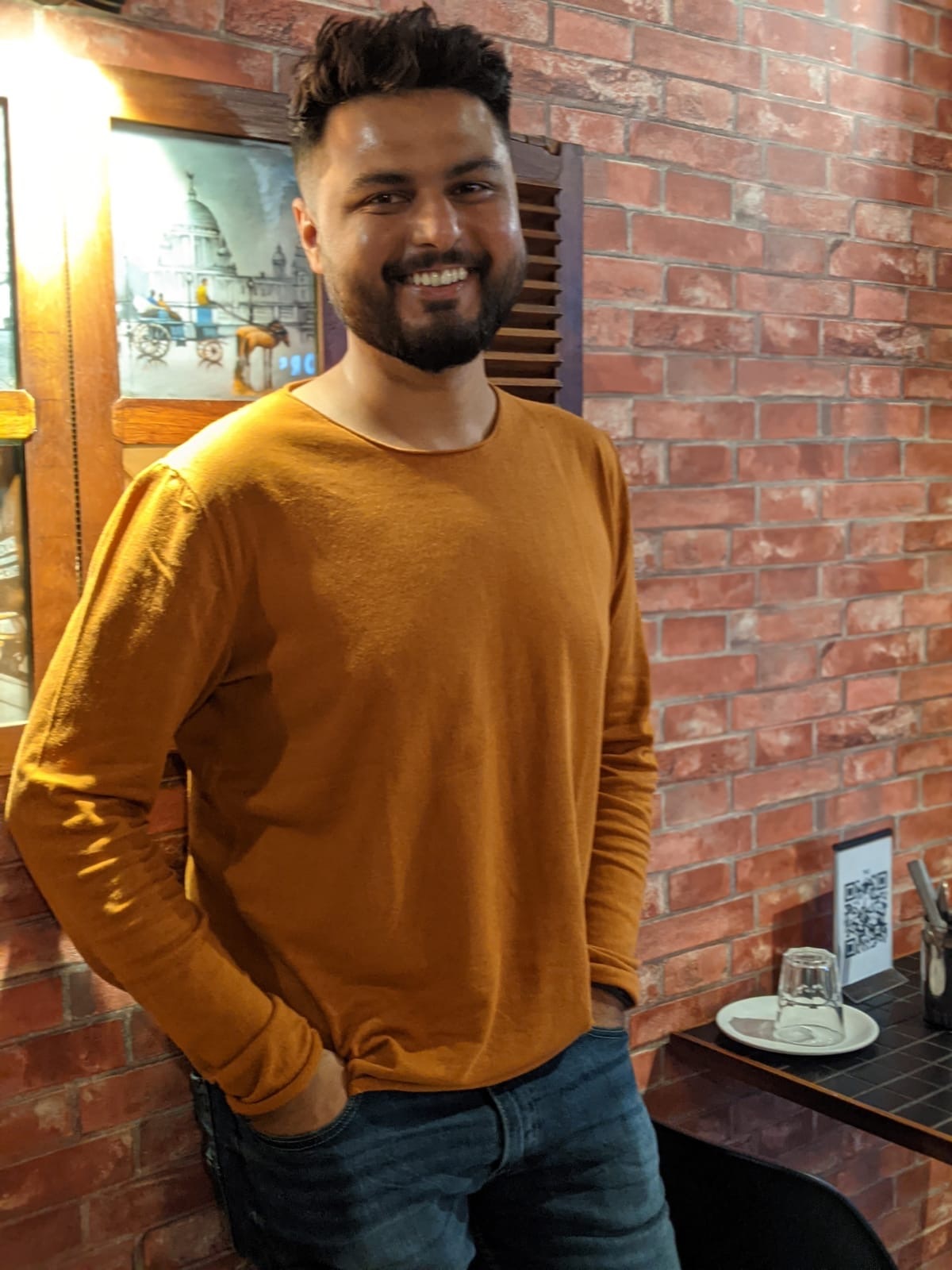 Dhruvil is a Marketing and Strategy Manager at Conneqtion Group, a Oracle iPaaS and Process Automation company. He comes with a vast experience of working in the Marketing, Branding and Content Marketing in various industries including IT service, SaaS, Natural Gases & Equipments, Food and United Nations. He has completed his MBA in Marketing from Western Sydney University and has worked for more than 7 years with Indian and Australian startups. He has a good acumen of business and marketing in the Indian startup ecosystem and has worked with BOC Gases, a leading Gas company handling their APAC Marketing.
Related posts