Reading Time:
4
minutes
Oracle Financials Cloud offers robust reporting capabilities, allowing users to generate comprehensive financial reports and gain insights into their financial performance.  In this article, we will study about oracle financial cloud benefits for business and its features.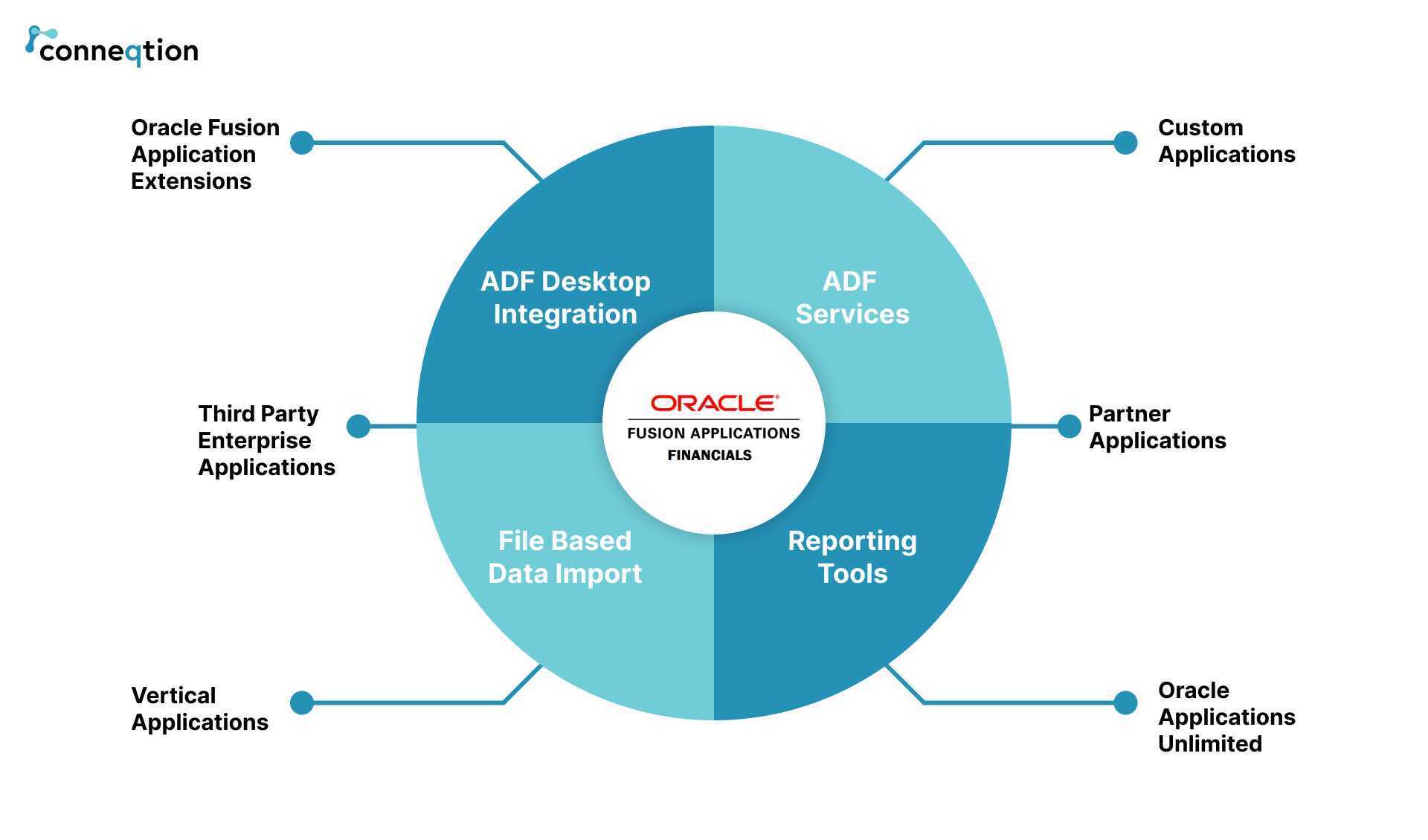 What is Oracle Financial Cloud?
Oracle Financials Cloud is a comprehensive cloud-based financial management solution. It is part of Oracle's suite of ERP applications and is designed to help organizations effectively manage their financial operations. Oracle Financials Cloud integrates various modules and functionalities to streamline financial processes, enhance financial control, and provide real-time visibility into financial performance.
Why Oracle Financial Cloud for Business Benefits?
Implementing Oracle Financials Cloud in a business can offer numerous benefits, including:
Streamlined Financial Processes: Oracle Financials Cloud automates and streamlines financial processes, reducing manual tasks and improving efficiency. It enables faster and more accurate financial transactions, such as invoice processing, payment disbursements, and financial consolidation.
Enhanced Financial Control and Compliance: The solution provides robust financial controls and enables organizations to enforce compliance with accounting standards and regulatory requirements. It offers features such as segregation of duties, approval workflows, and audit trails to ensure proper financial governance.
Real-time Visibility into Financial Performance: Oracle Financials Cloud provides real-time visibility into financial data, allowing organizations to monitor and analyze their financial performance at any given moment. It offers customizable dashboards, reports, and analytics tools for insightful financial analysis and decision-making.
Improved Accuracy and Data Integrity: By centralizing financial information and automating processes, Oracle Financials Cloud helps ensure data accuracy and integrity. It reduces the risk of errors and discrepancies that can occur with manual data entry and enables data validation and reconciliation.
Integrated Financial Management: The solution integrates various financial modules, including general ledger, accounts payable, accounts receivable, cash management, and asset management. This integration facilitates seamless data flow and eliminates silos, providing a holistic view of the organization's financials.
Scalability and Flexibility: Oracle Financials Cloud is a scalable solution that can grow with the organization's needs. It supports the addition of new entities, business units, or subsidiaries, and can handle increasing transaction volumes. It also allows for customization and configuration to adapt to specific business requirements.
Cost Savings: By automating financial processes and improving efficiency, Oracle Financials Cloud can lead to cost savings. It reduces manual effort, minimizes errors, and optimizes resource utilization. Additionally, the cloud-based nature of the solution eliminates the need for significant upfront hardware and infrastructure investments.
Collaboration and Mobility: Oracle Financials Cloud enables collaboration and access to financial information from anywhere, at any time, and on any device. It supports remote work and empowers users to make informed financial decisions on the go.
Continuous Innovation and Updates: As a cloud-based solution, Oracle Financials Cloud receives regular updates and enhancements from Oracle. Organizations benefit from access to new features, industry best practices, and compliance updates without the need for major system upgrades or disruptions.
Integration with other Systems: Oracle Financials Cloud offers integration capabilities with other systems, such as customer relationship management (CRM), human resources (HR), and supply chain management (SCM). This integration enables seamless data flow across departments and improves overall business processes.
Key Modules of Oracle Financial Cloud

General Ledger Management:
General Ledger Management is a core module of Oracle Financials Cloud that serves as the central repository for an organization's financial information. It enables the management of the organization's financial accounts, such as assets, liabilities, equity, revenues, and expenses. With General Ledger Management, users can create and maintain a chart of accounts, perform journal entries, reconcile accounts, and execute period-close processes. It provides a comprehensive view of financial data, facilitates financial consolidation, and supports the generation of accurate financial statements.
Accounts Payable and Receivable:
The Accounts Payable and Receivable modules in Oracle Financials Cloud manage the organization's relationships with vendors and customers. Accounts Payable automates the invoice processing workflow, tracks vendor invoices, manages payments, and supports expense reimbursements. On the other hand, Accounts Receivable tracks customer invoices, manages receipts, handles collections, and ensures accurate revenue recognition. These modules streamline the end-to-end processes of invoicing, payment management, and revenue tracking, improving efficiency and cash flow.
Cash Management:
Cash Management module focuses on optimizing cash flow and liquidity management within an organization. It allows users to manage bank accounts, bank statements, and perform bank reconciliations. With automated bank feeds and bank statement reconciliation capabilities, Cash Management simplifies the process of matching transactions and ensures accurate cash balances. It also enables cash positioning, cash pooling, payment processing, and provides insights into cash forecasting, helping organizations effectively manage their cash resources.
Asset Management:
The Asset Management module in Oracle Financials Cloud facilitates the management of fixed assets throughout their lifecycle. It tracks and records information related to asset acquisitions, depreciations, retirements, and disposals. Asset Management supports asset revaluation, impairment calculations, and lease accounting. It helps organizations maintain accurate and up-to-date records of their assets, comply with accounting standards, and make informed decisions regarding asset utilization, maintenance, and financial reporting.
Expense Management:
Expense Management module automates and streamlines the management of employee expenses. It simplifies the process of creating and submitting expense reports, enables workflow-based approval processes, and integrates with travel and expense systems for seamless data transfer. The module supports policy compliance checks, ensures timely expense reimbursements, and provides insights into expense trends and patterns. Expense Management helps organizations control costs, improve employee satisfaction, and gain visibility into travel and entertainment expenses.
Financial Reporting and Analytics:
The Financial Reporting and Analytics module provides robust reporting and analysis capabilities within Oracle Financials Cloud. It allows users to generate standard financial statements such as balance sheets, income statements, and cash flow statements. Additionally, it offers customizable reporting options, ad-hoc querying, and drill-down capabilities for in-depth financial analysis. The module also includes pre-built financial analytics dashboards and visualizations, as well as integration with business intelligence tools. This enables organizations to gain actionable insights into their financial performance, identify trends, and support data-driven decision-making.
Conclusion:
In conclusion, by harnessing the full potential of Oracle Financials Cloud, organizations can optimize financial operations, improve decision-making, and achieve business growth. The automation, integration, standardization, and real-time visibility offered by Oracle Financials Cloud empower organizations to streamline processes, enhance accuracy, and gain valuable insights into their financial performance.
Shobhit Taliyan is a graduate of Computer science and Engineering. He has a professional certification in Java full-stack development. He is working as an Oracle consultant at Conneqtion Group. Shobhit has good knowledge of OCI, OIC, VBCS,PL/SQL and Oracle Fusion.
Related posts