Reading Time:
4
minutes
According to the researchers, the EPM cloud software market is expected to grow from USD 3.02B in 2017 to USD 7.72B by 2030. Businesses today are increasingly turning to cloud-based solutions for their enterprise performance management needs. With Oracle EPM Cloud, businesses can make better decisions faster, and gain better insights into their financial and operational performance.
In this blog post, we'll explore the benefits of using Oracle EPM Cloud for your business.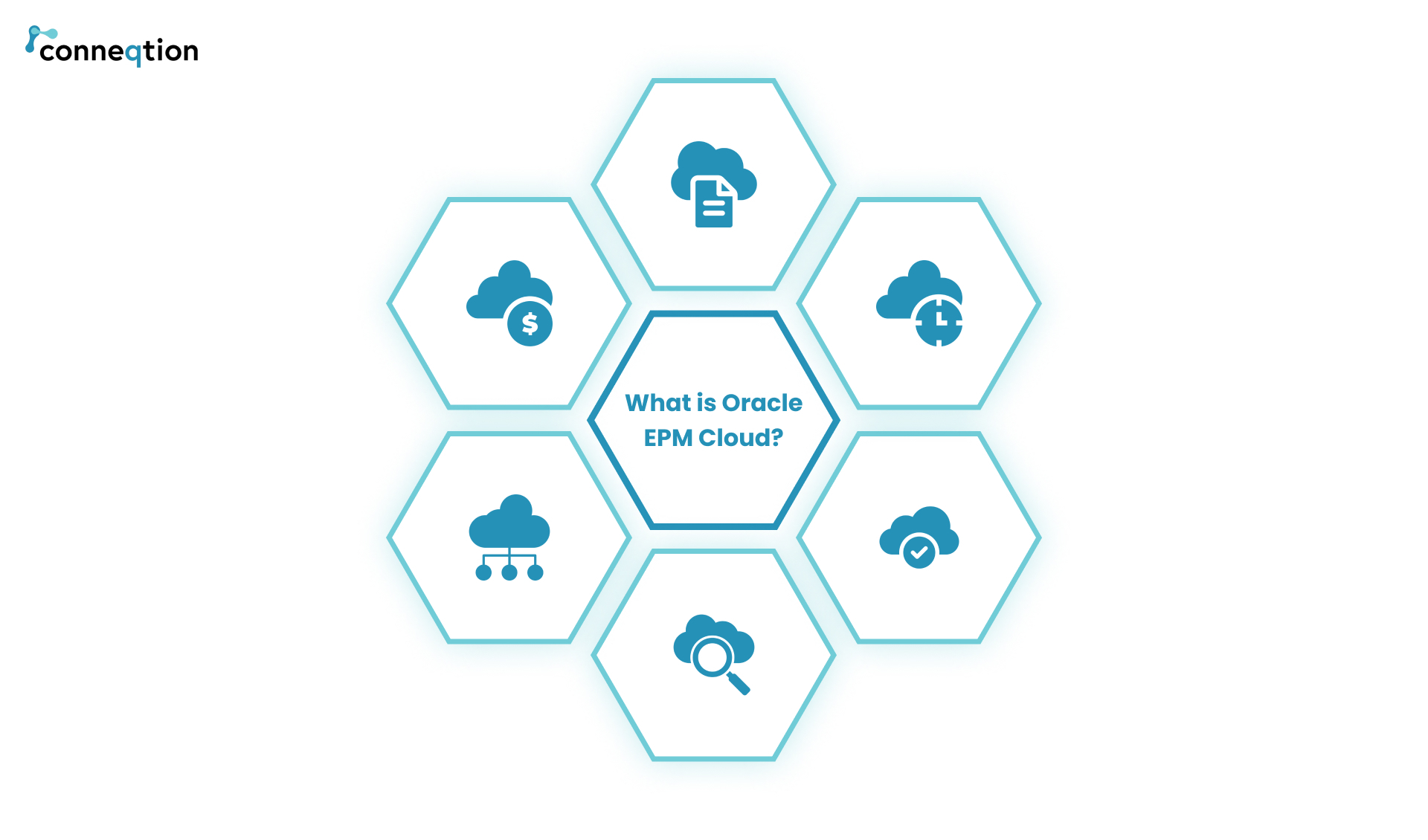 What is the Oracle EPM Cloud?
Oracle EPM, which stands for Enterprise Performance Management (EPM), is a cloud-based platform that allows users to access the application anytime and anywhere without storing it on their own server. Also, the cloud-based model provides for automatic updates, which encourages organizations to keep using the new features and functionality as soon as they become available.
What does Oracle EPM Cloud do?
Oracle cloud EPM includes a variety of applications and technologies that help companies track their strategic performance.
Some of the key features of Oracle EPM Cloud include:
Easy and collaborative budgeting, forecasting, and planning
Financial consolidation and close management
Advanced reporting and analysis capabilities
Integrated governance, risk, and compliance framework
Role-based security, access controls, and data encryption
Mobile access.
Embedded analytics and data visualization capabilities.
In short, EPM is an integrated set of tools for managing and improving an organization's performance. It is one of many enterprises' solutions for Oracle Cloud Platform, which also offers other products like ERP, HCM, SCM, and more.
Who benefits from the EPM cloud?
Businesses can adhere to security guidelines to avoid data leaks. TLS for communication, encrypted passwords for safe EPM automatic access, and network restricted access are among Oracle's security compliance features. EPM provides a selection of reporting standards with accurate and updated data, eliminating the need for numerous financial reporting systems and shortening the cycle time of the process as tax and regulatory requirements for financial reporting change.
It's used by most large-scale companies, such as banks, retail, and manufacturing, to help them make data-driven decisions and meet regulatory requirements. The EPM cloud has been especially beneficial to the following teams.
Business leaders and executives: It provides business leaders and executives with real-time data and analytics to help them make strategic decisions.
HR teams: They can streamline their financial planning and forecasting processes with the EPM cloud, resulting in more accurate budgeting.
IT teams: This eliminates the need for IT teams to manage and maintain on-premise software and hardware, reducing their workload and costs.
Business users: It makes it easy for business users to access and use the data they need, regardless of their location or device.
Small and medium-sized businesses: EPM cloud is more cost-effective and scalable for SMBs, making it more accessible for them to improve their performance management processes.
EPM software also has a part for analyzing performance, reporting outcomes to internal and external stakeholders, and assessing how well the organisation is performing in relation to the plan as well as its vision and goal. EPM software also uses indicators like return on investment (ROI), revenue expenses, overhead costs, and operational costs as benchmarks.
Difference between Oracle Cloud EPM and Oracle ERP
Oracle ERP is mainly focused on managing day-to-day activities.
whereas Oracle EPM is used for improving overall performance and making better decisions based on data analysis.
Both are integrated with one another to provide an entire solution for managing a business' operations and performance.
| | |
| --- | --- |
| Oracle EPM | Oracle ERP |
| Improved financial and operational planning and forecasting |   Improved operational efficiency |
| Better visibility into performance | Better data accuracy and visibility |
| Improved collaboration and communication | Improved decision making |
Advantages of using Oracle EPM for business:
Enterprise performance management software applications that enable organizations to plan, budget, forecast, and analyse their financial and operational performance.
There are several advantages to using Oracle EPM:
Improved decision-making: Oracle EPM provides real-time visibility into an organization's financial and operational performance, allowing for more informed decision-making.
Greater collaboration: Oracle EPM enables finance, operations, and IT teams to work together more effectively by providing a centralised platform for performance management.
Increased efficiency: It automates and streamlines performance management processes, reducing the time and effort required to complete them.
Better forecasting: This system provides advanced forecasting capabilities that allow organizations to predict future performance more accurately.
Compliance: It includes built-in compliance with regulatory and industry standards.
Scalability: It can be scaled to suit the organization's needs as they change over time.
Integration: This easily integrates with other Oracle or non-Oracle systems, providing a single source of truth for performance data.
Cloud or On-Premises Deployment: Oracle EPM can be deployed in the cloud or on-premises, depending on the organization's needs and preferences.
Also read: Reasons why oracle cloud ERP is right for your business?
What are the types of oracles EPM?
EPM clouds offer two types of EPM. They are Standard Cloud EPM and Enterprise EPM.
Standard EPM is a software-as-a-service (SaaS) offering that provides a preconfigured set of tools for budgeting, planning, forecasting, and financial consolidation. It is intended for small to midsized organisations and can be deployed and configured quickly. It comes the following
Planning
Financial consolidate closure
Account Reconciliation
Narrative Reporting
Management of data
Enterprise EPM is a more comprehensive and customizable solution that is intended for large organizations. It offers advanced functionality and can be configured to meet the specific needs of companies. It includes the following:
Planning
Financial Consolidation and Closure
Account Reconciliation
Narrative Reporting
Profitability and cost management
Tax Reporting
Enterprise Data Management
Both Standard Cloud and Enterprise EPM are cloud-based software solutions. These solutions are designed to help businesses manage and analyse financial and operational performance data and make data-driven decisions.
Major players of oracle EPM cloud in global enterprise performance management are:
Anaplan
IBM
Prophix
Deloitte
Emtec
Vena
The Hackett Group
CA Technologies
Oracle
Host Analytics
The global market for enterprise performance management is now expanding significantly as a result of a number of factors, including an increase in digital transformation, automation of industrial management and related processes, minimal maintenance needs, and the affordability of cloud based EPM.
Conclusion:
Looking for analysis of delivery teams by Oracle EPM cloud architecture? Contact us today. With this EPM cloud solution, organizations can achieve greater accuracy in their financial statements, gain visibility into cost structures and profitability, improve data governance, and ultimately make better-informed decisions that drive higher levels of efficiency and success.
An accomplished SEO specialist who has a passion for optimising digital landscapes. With over 4+ years of experience. She has worked on successful B2B and B2C projects. She holds a bachelor's degree in computer science. She believes that SEO is the key to unlocking the business potential.
Related posts