Reading Time:
4
minutes
Business intelligence is a well-known player in the BI market, and its solutions are widely used by many organisations across various industries and of different sizes. 
What is Oracle Business Intelligence (BI)?
Business intelligence (BI) is the process of using technology to collect, analyze, and present data to help businesses make better decisions. Typically, it includes a set of tools for data analysis, including data mining, online analytical processing (OLAP), and reporting, as well as performance management, forecasting, and data visualization.   
Oracle BI includes a range of products, such as 
Oracle Business Intelligence Suite  
Oracle Business Intelligence Enterprise Edition (OBIEE)  
Oracle Business Intelligence Cloud Service (BICS) 
How does Oracle business intelligence improve efficiency?
Oracle Business Intelligence will improve efficiency in several ways: 
Faster Decision Making: By providing real-time access to accurate and relevant data, BI can help managers and decision-makers make more informed decisions promptly. 
Improved Data Quality: BI tools can help businesses develop the quality of their data by discovering and correcting errors, inconsistencies, and duplications. 
Automation of Reports and Analysis: It automates the manual work of generating reports and analyzing data, which can save lots of time and reduce errors.  
Increased Visibility: It helps to get a single unified view of a product's data, and to make that data accessible and actionable. Which can help managers and employees identify trends, patterns, and opportunities that may have been overlooked before. 
Better Resource Allocation: It can help organizations optimize the use of their resources by identifying areas where costs can be reduced, revenues can be increased, or performance can be improved. 
Overall, Oracle Business Intelligence can help to make clearer decisions, increase operational efficiency, and improve overall performance by providing access to accurate and timely data. 
Also read: 13 Key Features and Advantages of Oracle Analytics Cloud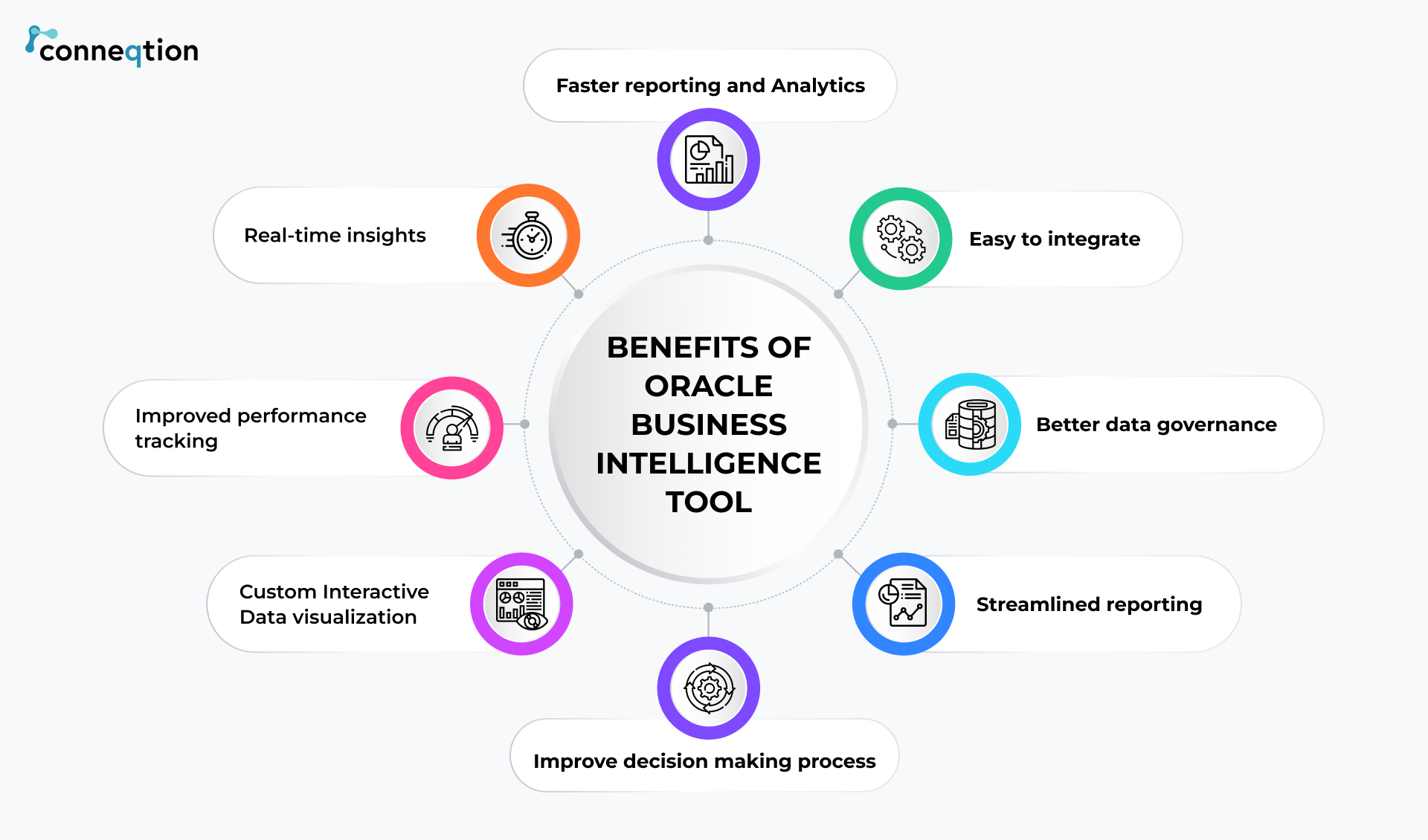 How do business intelligence tools help companies?
Data Analysis: BI tools provide a range of data analysis capabilities, including data mining, and reporting, that companies can utilize to make sense of large and complicated data sets. 
Data Visualization: BI tools can present data in a variety of graphical formats, such as charts, graphs, and maps, that can make it simpler for users to identify and act on the information. 
Predictive Analytics: BI tools can use historical data to identify patterns and trends that can be used to predict future outcomes. This can help companies to plan for future growth and how to allocate resources. 
Dashboards and Scorecards: It provides centralized, real-time view of key performance indicators (KPIs) which can help the user to act immediately.  
Identifying Opportunities: It helps to identify companies to find new opportunities for growth, such as identifying new markets, products, or customer segments. 
Benefits of Oracle Business Intelligent tool
Oracle BI tools are designed to scale and handle large volumes of data and can be easily incorporated with other products which can benefit companies adapt to changing business needs.
It's a cloud-based tool service that offers a simple, fast, and secure way to create and share interactive dashboards.
 
It has a variety of security features including role-base security, data level security and encryption, which can help companies protect sensitive data.
 
It allows to use the report through the user's smart phone and tablet. This helps in case the user is working remotely.
 
It provides self – service capabilities which can help users to access and analyze data without the help of IT support.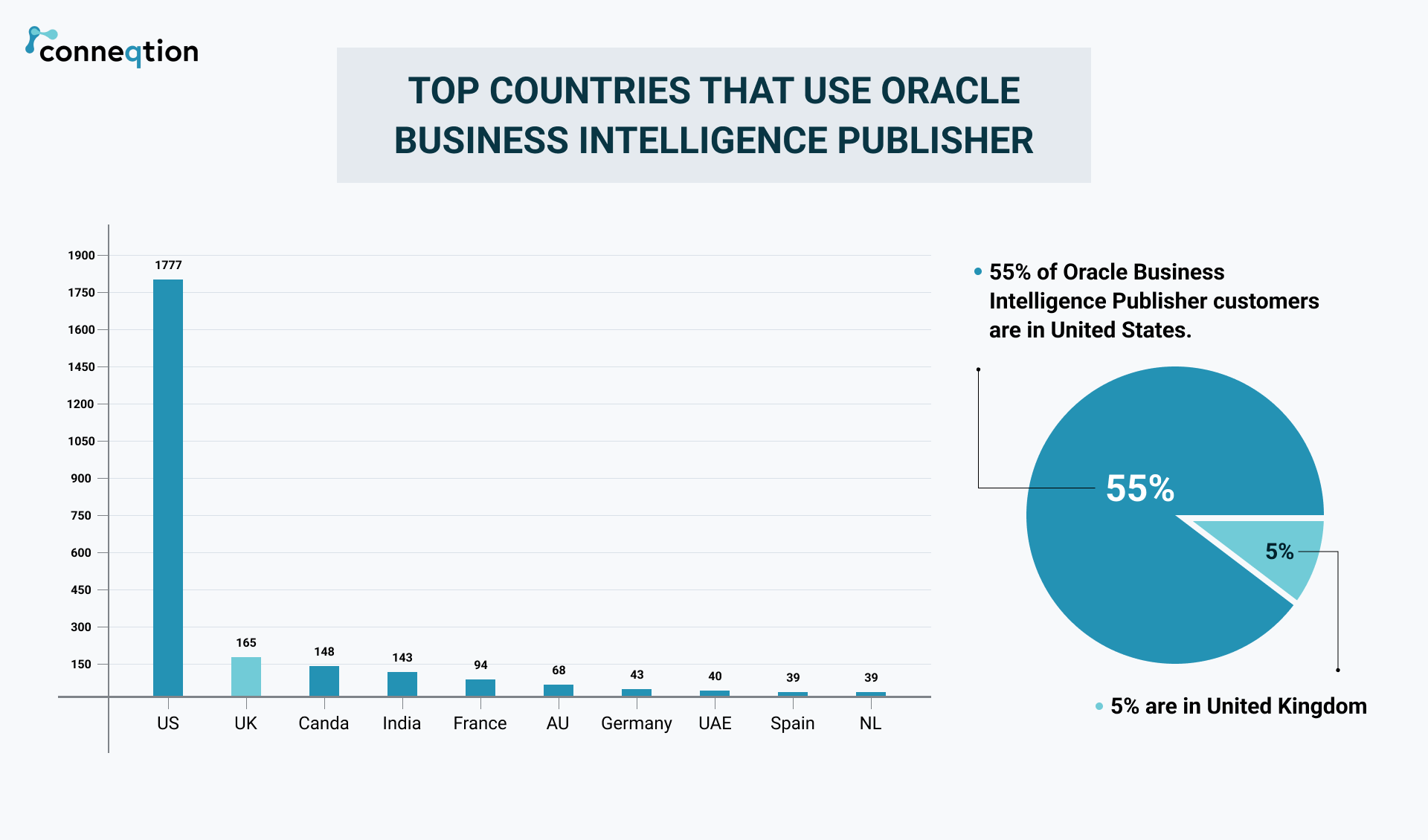 Key concepts of Business Intelligence
BI is a set of tools for transformation of raw data into meaningful and useful information for business analysis.  
There are several key concepts that are central to BI, including:
Data warehousing: This is the process of collecting, storing, and managing large amounts of data from various sources in a centralized location. This data is then used to support BI applications. 
Data mining: This process of discovering patterns and knowledge from large amounts of data. Data mining techniques are used to extract insights from data warehouses. 
OLAP (Online Analytical Processing): This technology allows users to analyze data from multiple dimensions and levels of detail. OLAP tools allow users to easily pass through and manipulate big amounts of data. 
Dashboards and visualization: These are tools that allow users to view and interact with data in a graphical format, such as charts and graphs. Dashboards and visualization tools make it easy to understand and communicate data insights. 
Reporting: This is the process of creating and distributing reports that present data in a specific format. Reports can be generated on-demand or on a scheduled basis and can be shared with different stakeholders. 
Conclusion:
In short, Oracle business intelligence helps to create and deliver interactive dashboards, reports, and analytics, present data from a variety of sources, including relational databases, data warehouses, and other data sources. We at Conneqtion Group are data integration experts. Our team has years of experience and expertise in Oracle development and Oracle cloud implementation. Get in touch with us today.
An accomplished SEO specialist who has a passion for optimising digital landscapes. With over 4+ years of experience. She has worked on successful B2B and B2C projects. She holds a bachelor's degree in computer science. She believes that SEO is the key to unlocking the business potential.
Related posts