Reading Time:
4
minutes
Oracle visual builder and OIC are both effective platforms, but their uses are different. Both can work together to deliver an organization's digital transformation. In this article, we will explore its uses and features.
An overview of Oracle visual builder
Visual Builder Cloud Service (VBCS) is a tool to create web-based applications. This allows developers to build apps quickly and efficiently without the need for complex coding languages. VBCS is generally a low-code development world where organizations develop their applications for a high customer experience.
Features of Oracle visual builder cloud service
Oracle Visual Builder cloud service is one of the low code application development platforms for all sizes of organizations.
Custom web and mobile applications
With VBCS, developers can create custom web and mobile applications using pre-built templates and UI elements.
Integrate with external data sources:
VBCS provides built-in connectors and APIs that enable developers to integrate their applications with various external data sources, such as ERP, CRM, and HCM. This feature enables developers to create custom applications that can access data from different sources, making it easier to build applications that are tailored to specific business needs.
Building scalable applications:
It provides a scalable architecture that enables developers to build applications that can handle large amounts of data and traffic. This feature is particularly useful for enterprise applications that need to be able to handle high volumes of traffic and data.
Enhancing the customer experience:
Visual builder enables developers to create custom UI that are tailored to the needs of their customers. This feature allows developers to build applications that provide a better UX, which can lead to increased customer satisfaction.
Developing personalized UI:
It offers a range of UI components that can be used to create personalized user interfaces for applications. This allows developers to build applications for specific users or user groups, making it easier to build applications that are more intuitive and user-friendly.
Why should you choose VBCS for your application development?
Oracle visual builder plays a vital role where many organizations acquire it. We have included the importance below.
VBCS is not a server-side framework. This means the user is not always connected to the server, and the connection is established only when needed. This significantly helps in reducing network latency by reducing the number of server requests.
Oracle JET uses HTML and CSS; hence, UI elements are easier to perform using VBCS.
There is an auto-refresh functionality in VBCS when you make a change.
Single Page Application is a streamlined approach that can save different codes such as HTML, CSS, etc. with a single page load. By doing this, server requests are reduced, and the UX is enhanced.
It works for mobile applications and PWAs, where it's better than using a framework like ADF, which only supports a browser-based application.
A UI designer can develop an action event without writing complex code.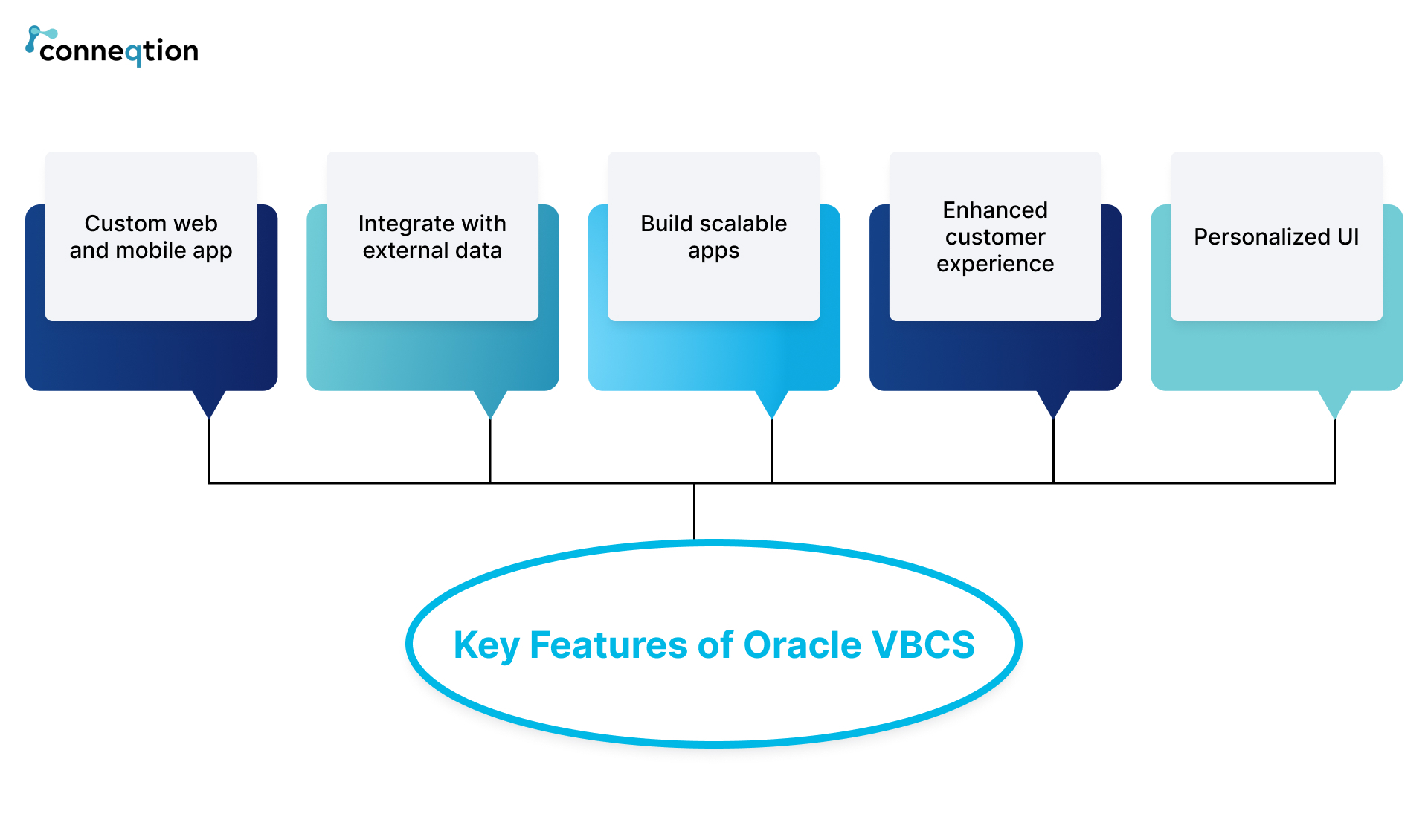 An overview of Oracle integration with the cloud
OIC enables a unified approach to connecting applications, data, and services across different clouds and on-premises. Oracle Integration Cloud offers pre-built integration flows, adapters, and connections for popular applications and services such as Salesforce, Oracle ERP Cloud, making it easier to automate processes across different systems. It also provides a range of tools for designing, testing, deploying, and managing integrations, including a drag-and-drop integration designer and a monitoring dashboard for tracking integration. If you want to know OIC features, we have written a detailed blog for 5 key features of OIC.
Comparing Oracle visual builder and OIC briefly
| | | |
| --- | --- | --- |
| Feature/Capability | Oracle VBCS | Oracle Integration Cloud |
| Purpose | It's a low code web and mobile application development platform. | Integration platform for connecting applications and data across different sources |
| User Interface | Drag-and-drop interface for building UI and business logic. | Visual designer for creating integrations using a drag and drop interface |
| Development platform | Integrated development environment (IDE) for advanced customization | Built-in adapters for connecting to Oracle and third-party applications |
| Integration Capabilities | Integration capabilities with Oracle and third-party applications | Data migration and mapping |
How do Oracle visual builder and OIC work together?
VBCS and OIC can work together to complete end-to-end application development and data integration. Have a look at the example of how they might work together.
Let's say that an organisation has an existing Oracle ERP system, and they want to build a new web app called a time-off request application for employees. While the new application wants to integrate with the ERP system to check employee schedules and submit time-off requests,
Here is how they can be used to elevate business to the next step:
Step 1: Developers will use VBCS to build the UI and flow for the application. This could involve creating a form for employees to enter their time-off requests as well as building logic to check employee schedules and submit requests to the ERP system.
Step 2: Once the application is built, developers use OIC to create integrations between the time-off application and the ERP system. This could involve using OIC's pre-built adapters to connect to the ERP system's APIs, as well as using OIC's visual designer to create data transformation and mapping rules for the data being exchanged between those systems.
Step 3: Once the integrations are done, they can be deployed along with the time-off application to Oracle Cloud Infrastructure (OCI).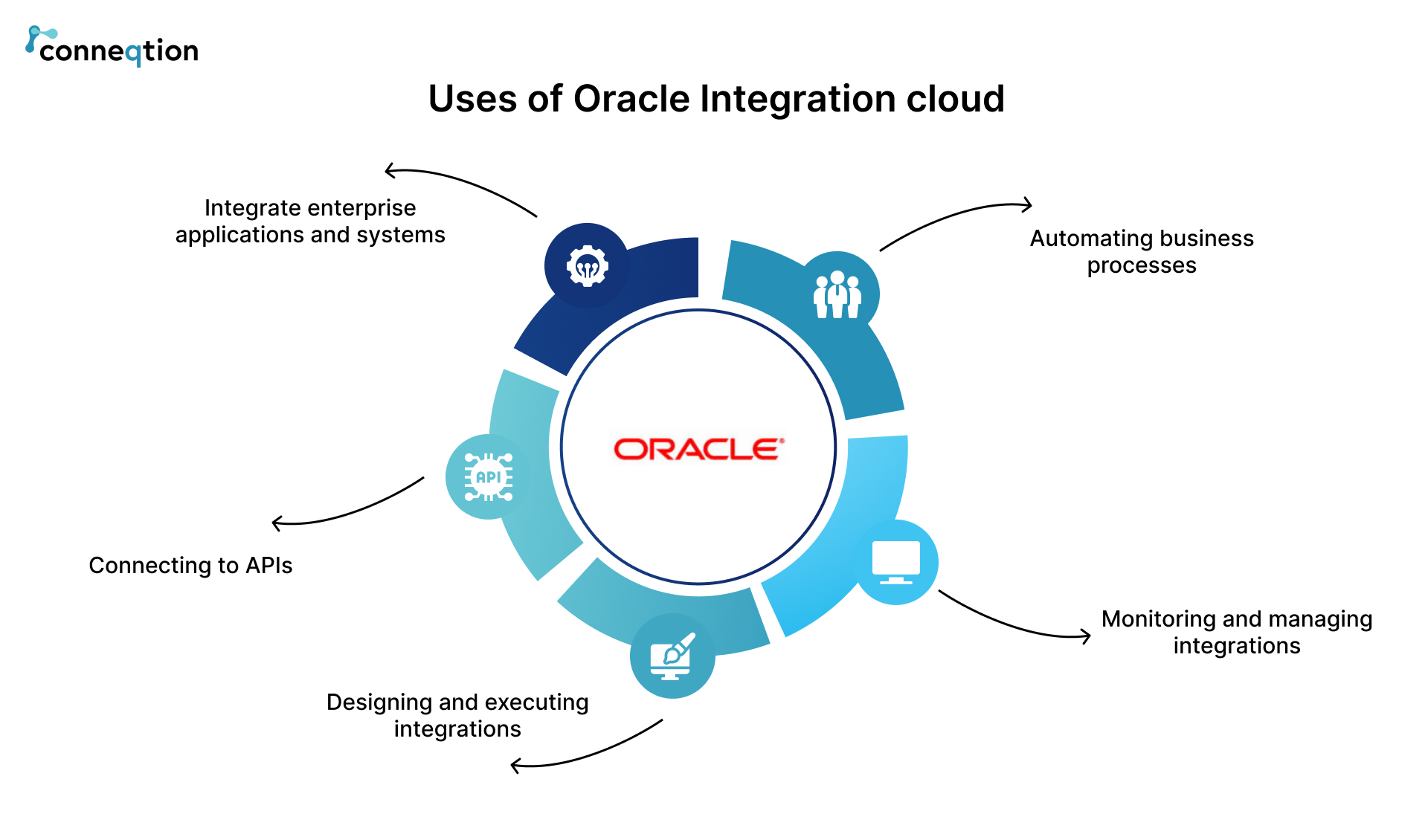 Wrapping up:
Overall, VBCS and OIC are working together to develop and deliver end-to-end processes and can help businesses streamline their operations and improve productivity. If you are looking for OIC and VBCS service, we have done this on a regular basis for different projects where our developers can do it quickly. Contact us today to get started!
An accomplished SEO specialist who has a passion for optimising digital landscapes. With over 4+ years of experience. She has worked on successful B2B and B2C projects. She holds a bachelor's degree in computer science. She believes that SEO is the key to unlocking the business potential.
Related posts