Reading Time:
4
minutes
According to the recent report by SP Global Multi-cloud Survey, 95% of businesses chose at least two cloud providers. This implies that organizations are moving forward with a multi-cloud strategy. Let's get start and discuss more about multi cloud deployment and how you can leverage them in 2023.
What is a multi-cloud strategy?
The term "multi-cloud" refers to an organization that uses more than one cloud service, such as AWS and Oracle, to meet its computing needs. The advantages of multi-cloud strategy aim to maximize the benefits of enhanced reliability, security of data and applications while avoiding vendor lock-in. The main purpose of a multi-cloud strategy is to provide cost effective and appropriate solutions for their specific requirements.

An example of a Multi-Cloud architecture

Let's say that you want to develop an application to meet your customer base's demand. You are in search of public clouds to get benefits from a mix of cloud providers. You may choose AWS for hosting or web app development, Oracle for Enterprise database management, google cloud platform for development and testing/disaster recovery. Likewise, every provider has different features.
Here is the short example, AWS + Oracle = Profitable and multiple benefits, which is known as a "multi-cloud strategy."
How to Develop a Multi-Cloud Mastering Strategy

Evaluate multiple cloud service providers and their offerings to decide which is the best fit for your organization.
Assess similarity among different cloud providers and existing systems.
Develop a migration plan that outlines the steps to move workloads to the cloud and manage ongoing migration.
Determine cost optimization strategies that consider factors such as pricing, vendor lock-in, and cost control.
Establish security and compliance protocols that ensure data protection and compliance with industry standards.
Create a governance and management plan that defines the responsibilities and processes for managing multi cloud environments.
Monitor and evaluate the multi-cloud strategy to ensure that it aligns with evolving business needs and technological advancements.
Develop training and support plans to ensure that all stakeholders understand how to effectively use the multi-cloud environment.
What's driving enterprises to opt for a multi cloud strategy?

There are several factors of enterprises to opt for a Mix of cloud planning:
Increased flexibility and options – With a multi-cloud strategy, organizations can choose the best cloud solution for each specific use case, allowing them to tailor their infrastructure to meet their specific needs.
Avoiding vendor lock-in – By using multiple cloud providers, enterprises can reduce their dependency on a single cloud vendor and avoid being locked into a particular technology or pricing model.
Cost savings – By spreading workloads across multiple cloud providers, enterprises can take benefits of better pricing, and reduce overall costs.
Range of technologies – This multi-cloud strategy provides access to a wider range of technology and services; it enables organizations to take advantage of the best solution for each use case.
Improved disaster recovery – By using multiple cloud providers, organizations can ensure that their data and applications are protected and accessible, even in the event of a disaster.
Increased security and compliance – These strategies can help organizations meet specific security and compliance requirements by choosing the best solution for each use case.
Leveraging best-of-breed solutions – This helps organizations take advantage of the best solution for each use case, rather than being limited by the offerings of a single vendor.
Specific regulatory requirements – Some industries and regulations that can be better met by using a multi-cloud strategy.
Recommended for you: What's driving the multi-cloud revolution?
What's the difference between Multi cloud and hybrid cloud?

Multi-cloud is an approach where an organization uses multiple cloud service providers (CSPs) to meet its computing needs. This allows organizations to take advantage of the strengths of different cloud service providers and reduces the risk of vendor lock-in.
A hybrid cloud approach is one in which an organization uses both public and private clouds. The public cloud is used for non-sensitive workloads, while the private cloud is used for sensitive workloads or applications that require a higher level of control and security.
In short, multi-cloud refers to the use of multiple public clouds, while hybrid cloud refers to the combination of public and private clouds. Both have their own pros and cons and can be used in different scenarios to meet the specific requirements of an organization.
Why do multi-cloud strategies dominate US Enterprises in 2023?

Most enterprise adopters of public cloud services use multiple providers, as a Gartner survey showed that 81% of respondents are working with two or more providers. The dominance of mega vendors in the public cloud services market is one of the main reasons why enterprises choose multiple cloud providers. As much as 90% of large enterprises had adopted a multi-cloud approach by 2021 and they expected to rise to 94% by 2023.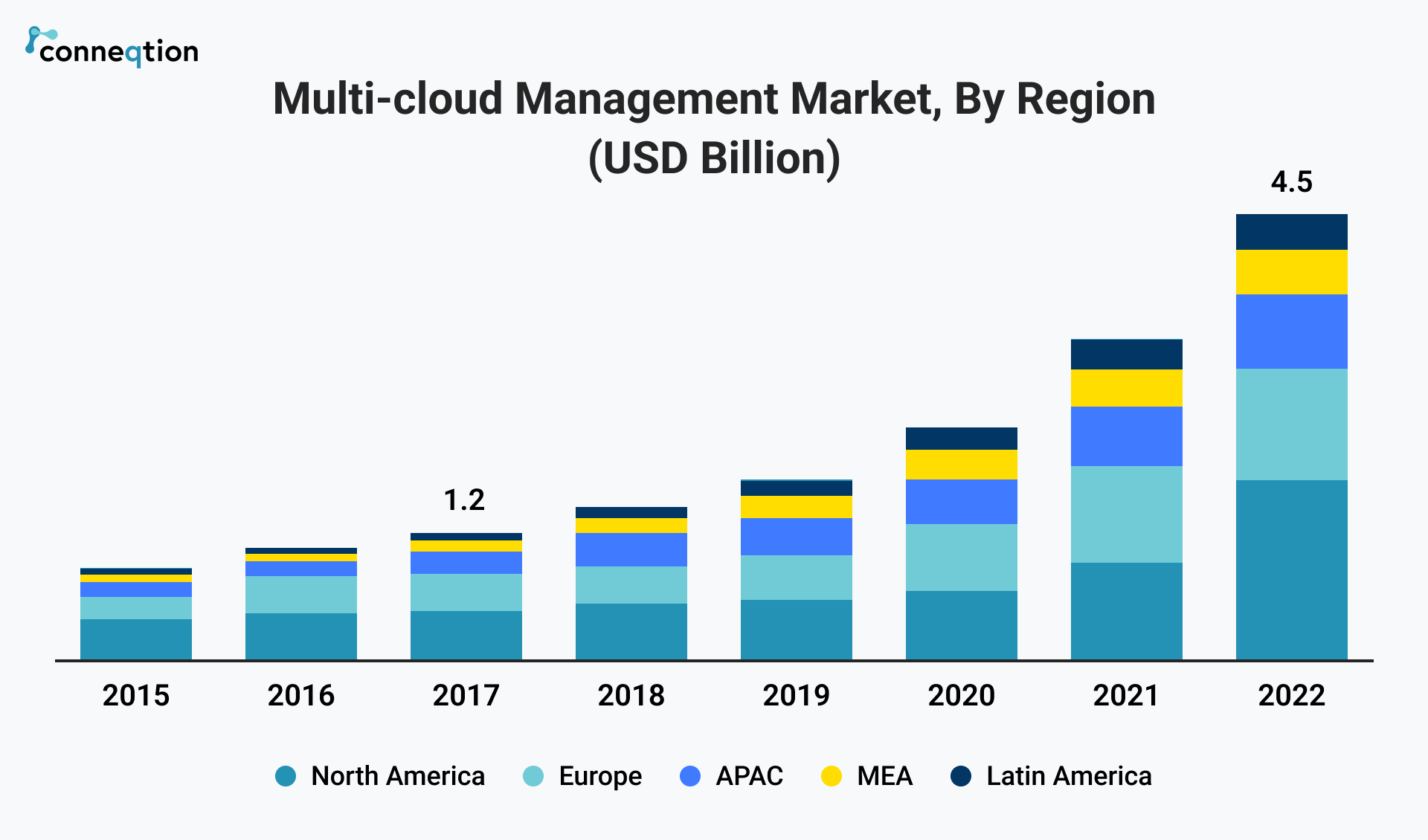 Challenges that businesses face when utilizing multiple clouds

A shortage of skilled resources who are familiar with multiple cloud platforms can be a barrier to successful multi-cloud adoption.
Managing multiple cloud environments can be complex and challenging, making it difficult to maintain a consistent level of control and security across all platforms.
Different cloud platforms may use different technologies and standards, making it difficult to standardize processes and manage resources.
Wrapping up:

Nowadays many businesses choose multi cloud strategy to save their cost as well as to utilize features of the different cloud service providers. To successfully implement a multi cloud strategy, businesses should have clear and careful planning and execution of their business requirements. It is also important to have skilled IT staff who are familiar with multiple cloud platforms and able to manage the technical challenges of a multi-cloud environment.
Roshan comes with an extensive experience in the Oracle Implementation domain after completing his Electronics and Communication Engineering from Bengaluru. He holds a plethora of professional certifications from Oracle after starting as an Associate Developer role and quickly made his way to a Senior Manager. He has worked with clients across the globe in ANZ, EMEA, APAC and Europe. At Conneqtion Group, Roshan has been a key part of managing the organization's largest risk teams apart from sharing his experience and skills to develop and nurture young talent with his dynamic vision.  
Related posts