Reading Time:
5
minutes
Project management is the need of the hour for enterprises globally due to the pace of digital transformation and increased customer demands. In this case, it is essential to have a proper project management system in place. What is the solution? The answer to this question is Project Portfolio Management or PPM. It is a system that offers a solid foundation to businesses and caters to their project management requirements.
Are you finding it difficult to find the right solution? 
Do you have any questions about how to devise a good strategy for Oracle PPM implementation? 
How to properly streamline and automate all manual processes at your organization?
If you are looking for answers to the above questions then you have come to the right place. In this blog we will discuss the basics of Oracle PPM Cloud implementation, advantages of PPM Cloud for project-driven organizations and the types of modules covered by PPM. 
What is the need of Project Portfolio Management?
Oracle PPM Cloud is an optimum solution for all your project and financial management that enhances the way modern enterprises function and facilitates a smart and cost-effective Oracle implementation. 
Businesses have changed their tactics based on customer demands and the management has started focusing on project-driven companies to showcase efficiency in the financial and project management of their portfolio. 
Earlier, businesses tended to follow the classic approach to project management. The classic approach relied on manual project management strategies, ad-hoc assignments etc. integrated with financial systems. Now, it is important for businesses to accept the modern approach where:
A need for a simple, collaborative system.
Due to remote locations, seamless collaboration is a must for businesses.
Enhanced reporting and real-time insights for the management.
Better connectivity for the entire team working on a single project.
Seamless integration with finance, supply chain, marketing, sales systems. 
Introduction to Oracle Project Portfolio Management
Project Portfolio Management is the efficient management of all the development tools, integrated systems, methods etc by all the major stakeholders in a project. This is done to ensure that the project is executed as per the plan and every stakeholder is on the same page regarding core project objectives. 
Good project portfolio management is the cornerstone to a successful project implementation as it involves executing the project as per the designated plan. For instance, Oracle ERP Cloud implementation is an overwhelming project for most organizations and PPM can help bridge the gap between the designed strategy and project execution. 
In a nutshell, the primary idea of PPM is to ensure that the entire project is in sync with the business goals and enable the team members to use the appropriate resources to get the work done in stipulated time. 
For efficient project management, Oracle PPM is classified into six main parts which are as under:
Costing of Project
Ease of communication
Managing resources
Agile task management
Billing & invoicing
Reporting & analytics
Apart from these core aspects, for successful project implementation and management it is crucial that the PPM tools are aligned to the customer needs, supply chain, sales, and financial systems of the organization. It is good to know that Oracle PPM Cloud ensures all the above functions for a successful end-to-end project design, development and deployment. 
Advantages of Oracle PPM Cloud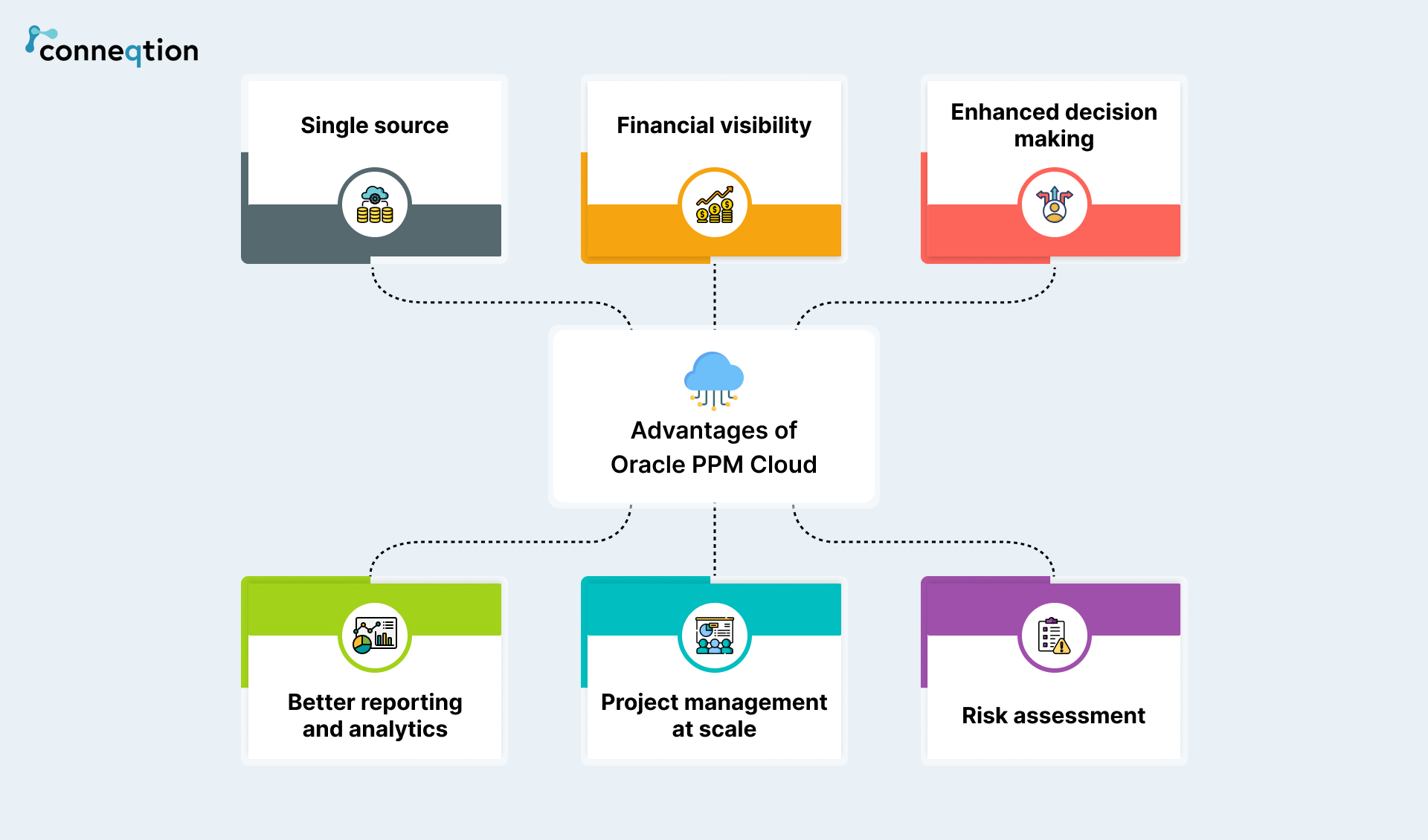 Oracle PPM Cloud is a coherent, yet convenient project portfolio management system that is devised to plan, manage and execute essential procedures that fall under the project lifecycle. Here, it is important that operational cost and timeline is managed efficiently so that the project doesn't go over the stipulated budget. 
As an integrated solution, PPM Cloud has various advantages for businesses to offer a holistic project management experience which is usually not the case with traditional project management methods. By doing so, businesses can ensure that project management is tightly connected with user management, supply chain, and financial management too. Some of the key advantages of Oracle PPM Cloud are as under:
Primary project plan.
Better financial visibility of the entire project.
Ability to make informed decisions in real-time.
Efficient reporting and analytics of the whole project.
Enable the stakeholders to work with 100% freedom.
End to end project management. 
Apart from the above mentioned benefits, businesses can gain a lot by leveraging PPM Cloud's processes to deliver projects on time and save on overhead costs.
Using Oracle PPM Cloud, organizations get a chance to do full proof planning that helps the project stakeholders to tackle any challenges along the way. Another important aspect is the careful planning of resources during the project. PPM Cloud has a resource management feature that allows you to use your resources optimally, improve communication between the team members and ensure that the project is delivered on time. By doing so, there is a chance of reducing any last minute mishaps and human errors that can lead to delays and increase the project cost. 
The next important thing is to work on the profitability of the business and PPM Cloud helps businesses make better financial decisions to increase the ROI. Overall efficiency of the team is improved which leads to a happy team that can work stress free and meet the deadlines. Hence, most modern day organizations choose Oracle PPM Cloud for their project management requirements. 
What are the modules included in Oracle PPM Cloud?
Oracle PPM Cloud has all the essential features that are required in a project managed system for enhanced project delivery and increasing the profitability of a business. 
The Oracle PPM Cloud is made up of the below mentioned modules that are required for overall project execution and management like:
Costing of Project – accurate project cost calculation is done using this module.
Control of Project – this module helps in overall management of different systems including finance.
Contract Management – this module helps in drawing clear and concise contracts for the projects.
Billing and Invoicing – with the help of this module, it is possible to forecast revenue and ensure ease of billing.
Project Management – this module helps in end to end project planning and execution with the concerned teams.
Task Management – all team members can use this module to track their tasks so everyone is on the same page.
Resources – optimal usage of resources to ensure that there are no overhead costs and timeline is managed.
Reporting Capabilities – dynamic reporting and analytics to stay updated and make informed decisions.
Mobile friendly – easy to use mobile interface to manage tasks, resources, budget, billing etc using a mobile device. 
Conclusion

The above discussion would have helped you understand the importance and benefits of Oracle PPM Cloud out of the multiple project management tools available in the market today. However, it is important that businesses do their due diligence before investing in Oracle PPM or consult an experienced Oracle PPM Cloud implementation partner. It is a high priority to choose the right implementation partner for your business depending on the type of resources you have, skills of the resources, costing and project requirements. These criterias will differ for every organization and hence it is best to have a chat with an implementation partner before you proceed. If you have any questions related to Oracle PPM Cloud implementation, please feel free to drop an email on business@conneqtiongroup.com or contact us on Linkedin.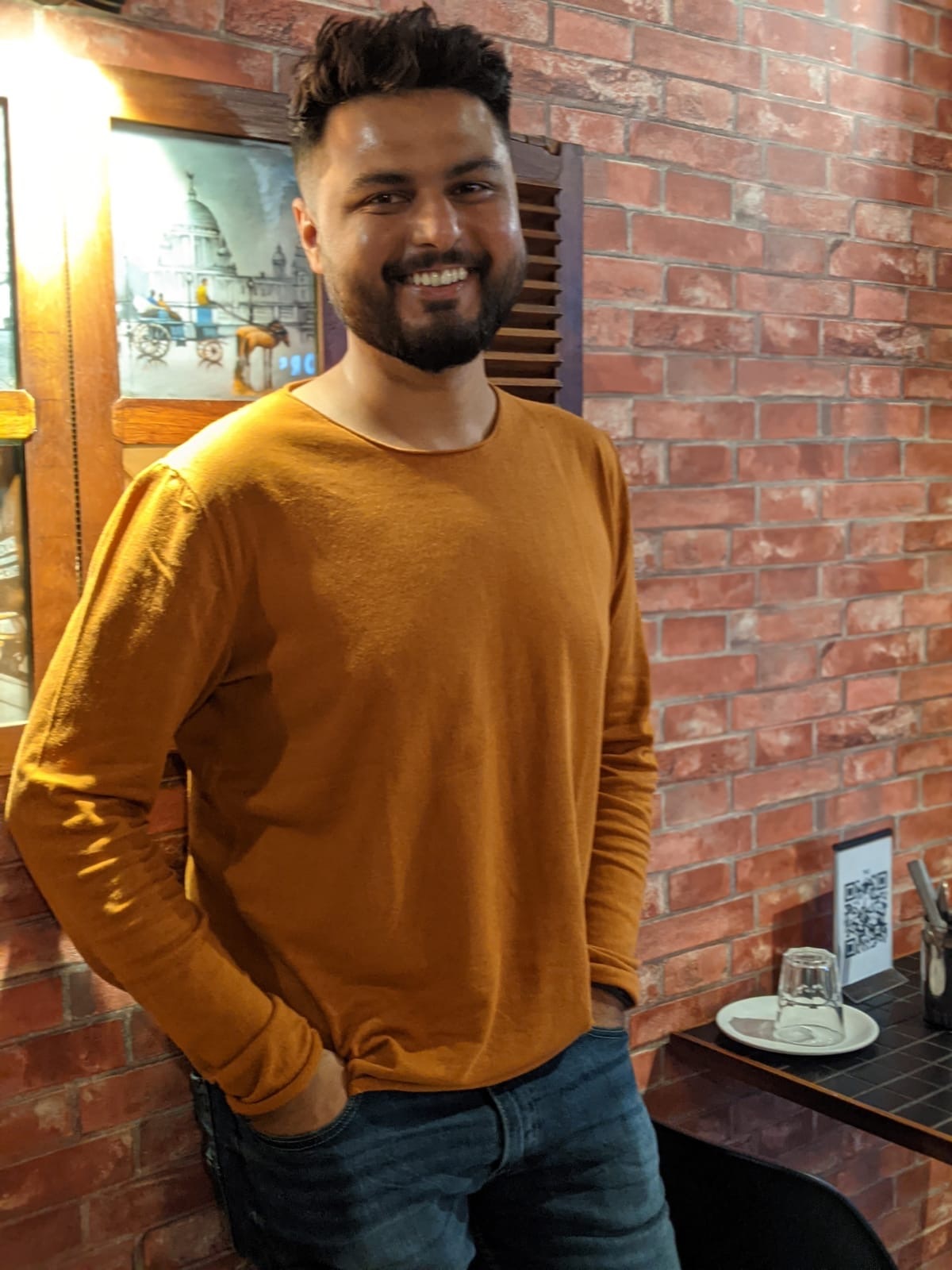 Dhruvil is a Marketing and Strategy Manager at Conneqtion Group, a Oracle iPaaS and Process Automation company. He comes with a vast experience of working in the Marketing, Branding and Content Marketing in various industries including IT service, SaaS, Natural Gases & Equipments, Food and United Nations. He has completed his MBA in Marketing from Western Sydney University and has worked for more than 7 years with Indian and Australian startups. He has a good acumen of business and marketing in the Indian startup ecosystem and has worked with BOC Gases, a leading Gas company handling their APAC Marketing.
Related posts