Reading Time:
6
minutes
ERP or Enterprise Resource Planning is an efficient solution that allows optimum utilization of resources with the help of key integrations. By leveraging ERP, businesses have been able to automate different functions including but not limited to HR, finance, marketing, sales, supply chain etc. The key challenge for any business is to manage the ERP implementation efficiently. If done right, the advantages of an ERP system can definitely justify the cost by reducing operational expenses, enhancing overall efficiency across multiple business functions etc. 
When businesses are considering the possibility of ERP implementation, the most important question revolves around the implementation partner. More often than not, businesses look to hire an ERP partner if they do not have the bandwidth to manage a full-time IT team. 
Contrary to popular belief, we feel hiring an external ERP partner might be the best choice for your business. In this blog, we will discuss why we think that an ERP partner would help you make informed decisions about your business. But first, let us understand what an ERP partner can accomplish for your business.
Role of an ERP Implementation Partner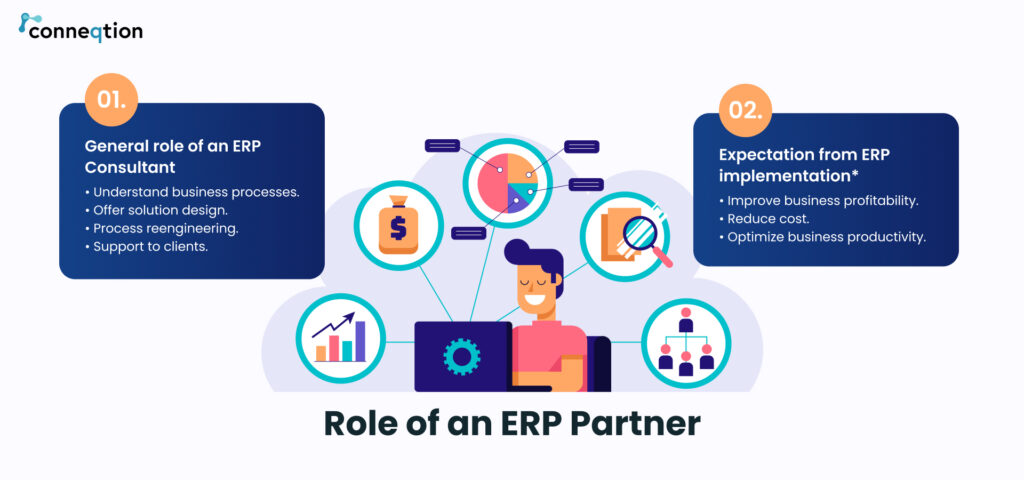 The right ERP partner can take your business to the next level and help you achieve competitive advantage. The ERP partner will begin by taking full ownership of different areas of the business. It also includes offering support once the implementation is successful. 
In a nutshell, a successful ERP partner will try to ask you the right questions in order to understand your business, successfully understand the real reasons behind ongoing issues and prepare a roadmap for the future. The ERP partner will help you achieve your expected results in an efficient and cost-efficient way. This is possible because a certified ERP partner will have the experience of implementing solutions across different industry verticals. Moreover, the right ERP partner will help enhance your business revenue, slash operational costs and improve business productivity. 
Why should you consider an Oracle ERP Implementation Partner?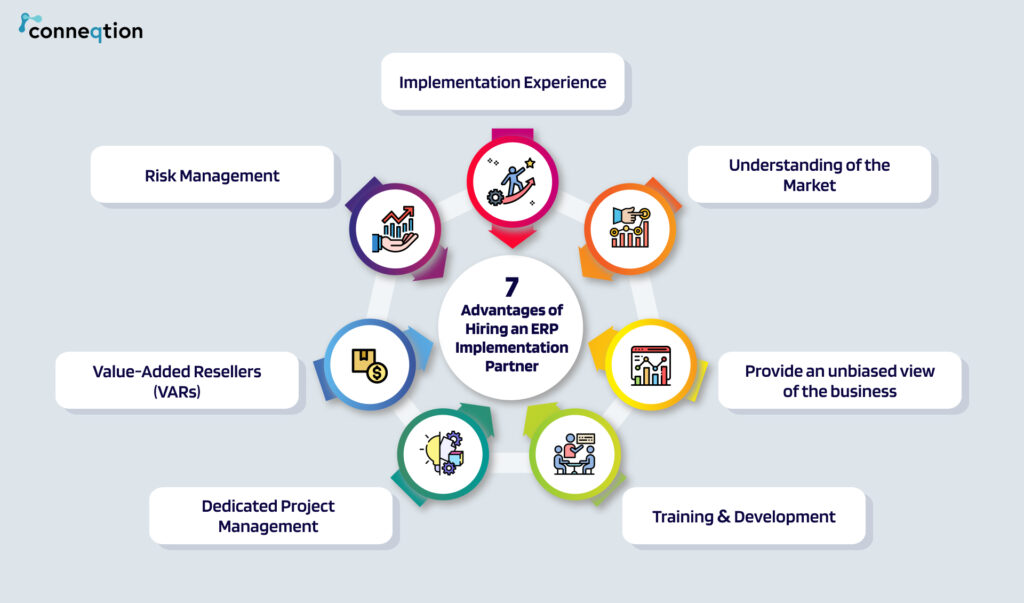 If you do not have an in-house IT team, hiring an experienced ERP partner might be a viable option for your business. We have listed some major advantages of hiring an ERP partner below:
Years of Implementation Experience
An ERP implementation team has a number of certified professionals with years of experience working on enterprises and implementation. By hiring an ERP partner, you can get the benefit of this experience as the team is highly efficient in creating business strategies for different functions across the business. At times, businesses are not able to handle ERP implementation in-house even with the help of a dedicated IT department. This is where an ERP partner comes in. 
When you hire an ERP consultancy, a team of professionals are there to assist you throughout and after the implementation process. This is to ensure that you receive hassle-free implementation. Moreover, most of the businesses offering ERP solutions invest heavily in the training and certification of their teams. Due to this, you can be rest assured that the team handling your ERP implementation has updated knowledge according to industry standards.
A significant advantage of this is the increase in productivity, better ROI and reduced costs. This is difficult to achieve with an in-house team due to the time, efforts and cost involved. 
Efficient Risk Handling
Have you thought about the risks that come with ERP implementation? What is your risk mitigation strategy? How do you ensure that your ERP implementation doesn't impact the business negatively? These are some questions that need to be answered by every management as there are risks involved in implementing any ERP solution.
Some of the most commonly feared risks include: the project running late, project running over budget, not achieving the results as expected. By investing in the services of a successful ERP partner, it is possible to get hold of these problems in the initial stage and not allow it to impact the implementation. This is possible as an ERP partner will invest a lot of time and effort in analyzing the progress and will identify any threats, if and when it arises. 
Valuable Industry Insights
ERP implementation partners or agencies have years of hands-on experience across multiple industries and have managed hundreds of implementations successfully. Don't you think this is a clear competitive advantage for any ERP implementation partner? Well, surely it is an advantage and hence it is a good reason to hire an external implementation partner specialized in managing successful implementations. 
Experienced ERP consultants have managed to meet KPIs and are always ready to offer multiple solutions for a problem based on your preference and business requirements. Moreover, they come with detailed industry insights, access to market surveys and probable solutions for different business functions. 
As the consultants are experienced and have worked on multiple implementations, their insights can be useful even apart from the implementation. This is because most partners offer entire consulting services to manage costs, improve business functions and get optimum performance for each and every project. By ensuring proper guidance and insights, it is possible to prepare a clear and concise proposal for ERP solution providers. 
Value-Added Resellers (VARs)
What happens when you deal directly with a sales team ready to sell their services without taking the time and effort to understand your business? You might end up buying the services that you don't need or you get confused by the plethora of options offered and end up buying nothing. In order to get past this situation, it is best to partner with an ERP consultancy to get custom solutions for your business. Moreover, it is best to go with a partner who are certified value-added resellers as it can help you get end to end support from licensing to implementation and support. 
Provide an unbiased view of the Business
As a business owner or someone from the management, at times you might not be able to have an unbiased opinion of business operations and performance. In this situation, an external service provider or partner can help you highlight the pros and cons of your existing business practices and how these cons can be leveraged to work for the business in the long run. 
When a business is going through a process of change, the assistance, guidance and overview of a neutral partner can also be useful to determine the challenges that were missed earlier. To ensure this, an Oracle ERP implementation partner will ask specific questions related to business functions and how the operations are handled in a secure way at optimum cost. With the help of this discovery, it will be significantly easier to find a solution to mitigate risks before it transforms into a threat for the business. 
Dedicated Management
What are the prerequisites of working on any project? For most projects across different industries, it depends on determining the business requirements, managing budgets, analyzing the time and efforts required by the team and breaking down the project into manageable segments. It is important for the management to have clear communication with the ERP implementation partner regarding the short-term and long-term goals of the organization and how they will manage the project efficiently. 
Now, a reliable ERP implementation partner will cover all parts of a project right from understanding the business requirement to implementation and support. Based on this roadmap, they will provide a list of items to be delivered throughout the scope of the project along with an ETA. By working closely with the implementation partner, your team can get accustomed to the ERP and get desired training in real-time. This will help in reducing the dependency on the implementation partner and ensure that all the teams working on the implementation are on the same page. 
Support & Maintenance
What is the next stage after implementation? Are you keen to get the support of the ERP partner or are ready to handle it in-house? These are a couple of questions that are crucial to choose an able ERP service provider. If you are keen to handle the next stage in-house, it would be apt to get the required training from the implementation partner. Most partners offer the service to train your staff as a part of the contract. This training can be done throughout the implementation phase or right after the implementation ends. It can take a few months to train the team so that they can manage the challenges through the transition. 
Conclusion: Are you ready to choose your ERP implementation partner?
After looking at all the above reasons, we are sure that advantages of having the right ERP implementation partner can not be neglected. Properly managed implementation along with the training and support, your business can reduce the desired costs, manage workforce efficiently and improve productivity and revenue. In-house implementation might look like the better option if your team is equipped to handle the transition. However, if it is not the case, then choosing an experienced ERP implementation partner like Conneqtion Group is the best option for your business. If you have any questions regarding the implementation starting from the discovery phase to the support, then get in touch with us today.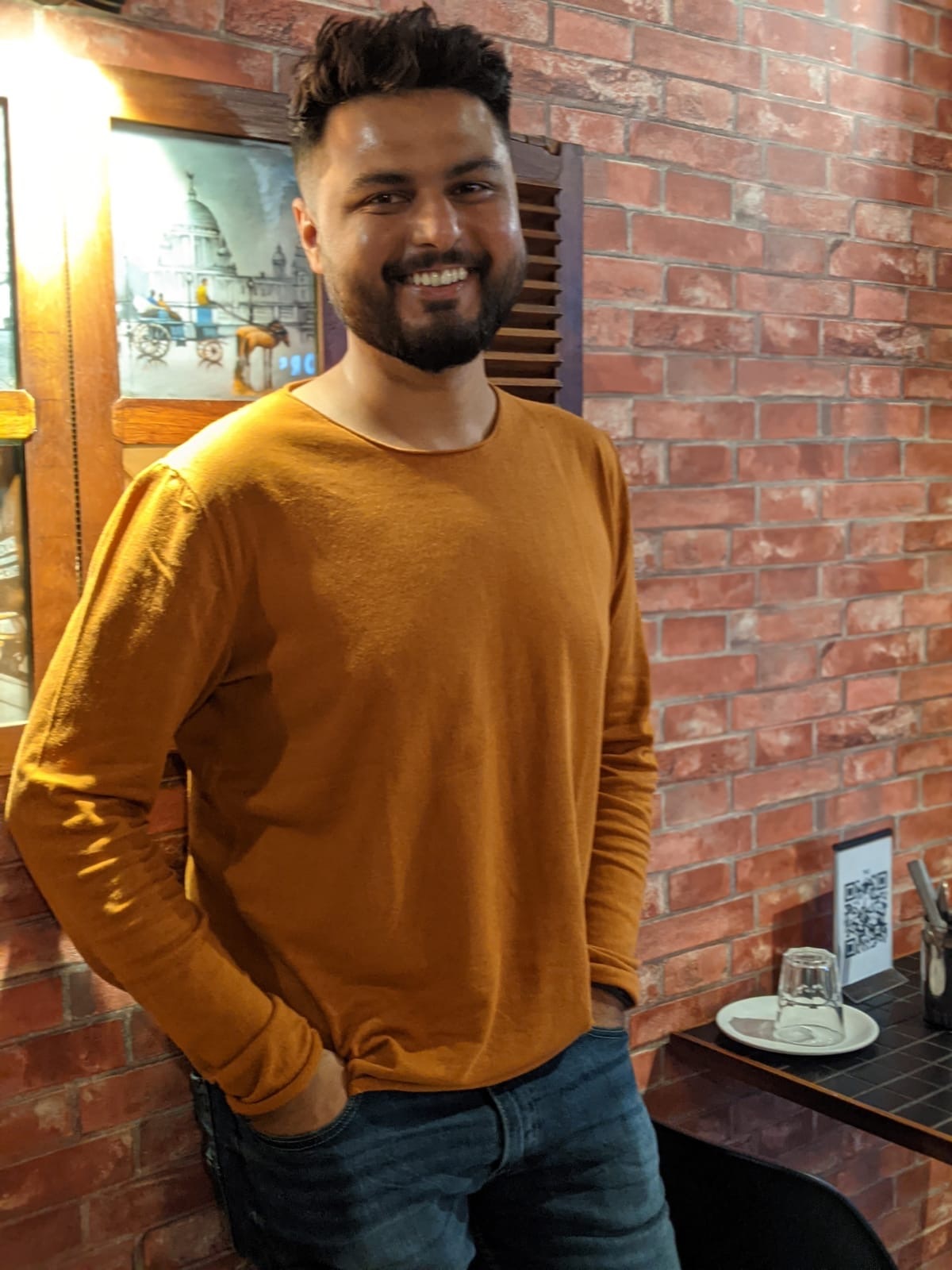 Dhruvil is a Marketing and Strategy Manager at Conneqtion Group, a Oracle iPaaS and Process Automation company. He comes with a vast experience of working in the Marketing, Branding and Content Marketing in various industries including IT service, SaaS, Natural Gases & Equipments, Food and United Nations. He has completed his MBA in Marketing from Western Sydney University and has worked for more than 7 years with Indian and Australian startups. He has a good acumen of business and marketing in the Indian startup ecosystem and has worked with BOC Gases, a leading Gas company handling their APAC Marketing.
Related posts