Reading Time:
6
minutes
What exactly is Oracle PaaS SaaS Integration?
Oracle PaaS and SaaS Integration refers to the oracle integration of  PaaS and SaaS services. This can involve integrating Oracle PaaS services, such as the Oracle Cloud Infrastructure, with SaaS applications, such as Oracle's own SaaS applications, such as Oracle ERP Cloud or Oracle HCM Cloud, or with third-party SaaS applications. Integration allows data and functionality from different applications to be connected and used together, enabling organisations to build more powerful and flexible business processes and solutions.
Software-as-a-Service (SaaS) is transforming into an increasingly sustainable choice for businesses looking for accessibility, functionality, and diversity in a competitive business environment.
It's feasible for businesses to run SaaS software solutions and digital data analysis without having to depend on installing and running software on their own systems and data centers.
Saas has been ruling the cloud computing market for a long time. According to Gartner, the service-based cloud app market will be worth $143.7 billion by the end of 2022. It is a growing phase that will determine the SaaS trends in 2022.
SaaS is a software distribution model that provides agile features and is economically viable. This makes SaaS one of the most dependable options for multiple business models and industries. It is also popular among enterprises due to its simplicity, security features and connectivity. Moreover, Software-as-a-Service platforms optimize business models which enhance business efficiency. 
2021 was a pathbreaking year for SaaS in various industries. As we step into the new year, we will discover 10 crucial SaaS trends that will excel in 2022. So, let's dig deep into the most important SaaS Trends that will shape the future of business.
What are the top 10 b2b SaaS Trends in 2022?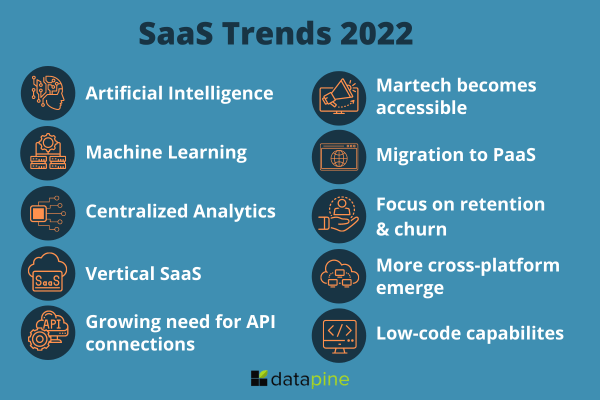 Let us check out the SaaS trends that will shape the technological advancement in 2022.
Artificial Intelligence
Since the last few years Artificial Intelligence has created a niche for itself in the IT industry and it will continue to flourish in 2022 and beyond by becoming a permanent member in the SaaS industry. Innovative concepts in AI has allowed businesses to provide excellent product/service along with customer service. So, by leveraging AI, organizations can definitely be streamlined at a fraction of the cost.
Artificial Intelligence will change the SaaS industry in the years to come by improving basic features of the Software as a Service model. If merged with SaaS, AI can surely empower businesses to get optimum outcome from their services using fewer resources.
Machine Learning
Machine learning is a part of AI and is used extensively to create intuitive reports and designs user responsive applications. Moreover, it helps in creating a smooth onboarding SaaS process. By using machine learning, businesses get the chance to automate business critical features and focus clearly on providing exceptional customer service.
By using Machine Learning, businesses can reap the following advantages:
Get clear and concise understanding for complex features.
Get competitive advantage with automation.
Improve collaboration to provide better customer service.
Custom language and tone for customers for a personalized experience.
For example, Netflix provides customized content to its viewers and Amazon uses ML to understand their customers better and offer them a personalized experience while shopping.
Vertical SaaS
The third suspect on this list is Vertical SaaS. Basically, horizontal SaaS works on customers across different industry verticals whereas Vertical SaaS is used for personalization purposes.
Some of the examples of this type of SaaS include software for POS in retail sector, healthcare and more. If you are looking to provide a personalized experience then it is best to go with Vertical SaaS as it is a cost-effective solution irrespective of the industry or your target audience.
Centralized Analytics
The next option is to go with a data-driven culture or analytics controlled by data. In this digital age, enterprises are looking to offer a seamless customer experience using data-driven analytics. It has been in trend in the last couple of years and we feel it will be one of the best SaaS trends in 2022.
This type of data driven analytics enable customers to interpret data from a primary location and each team member gets direct access to important data. Moreover, it is also possible for users to get access to this data from any device if they are working from home or are travelling for work.
API Connections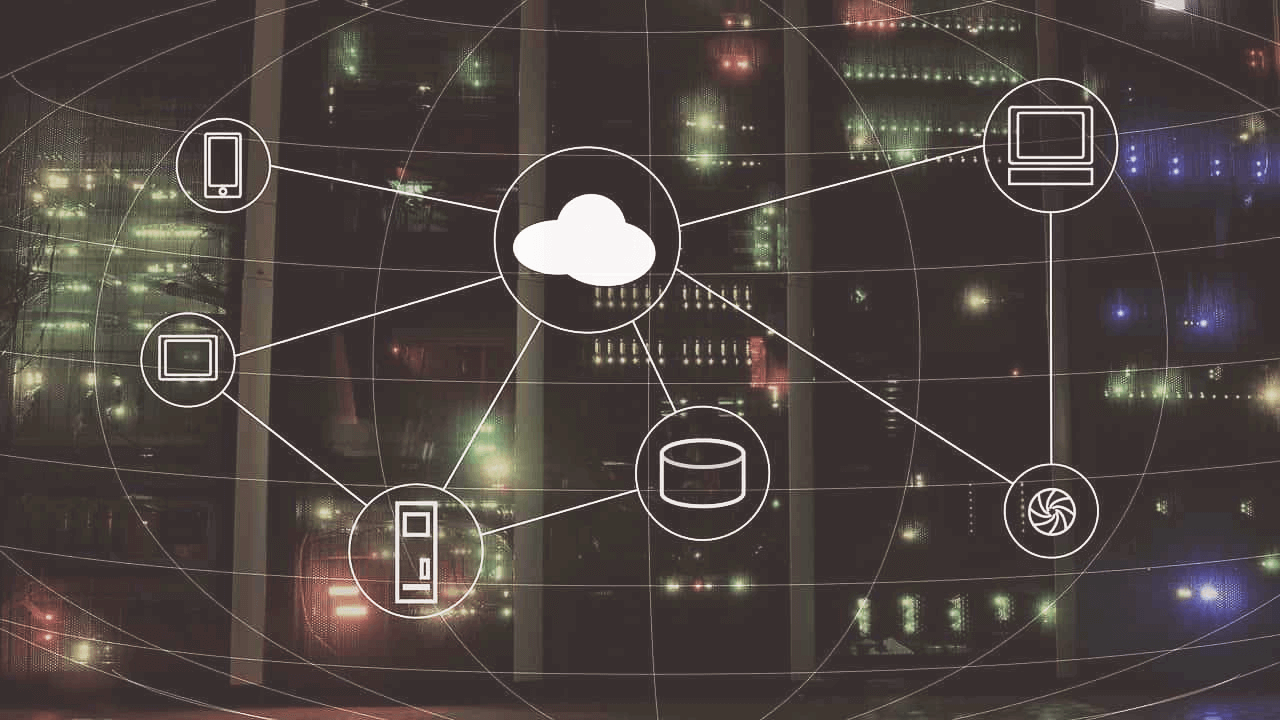 APIs are a crucial part of software development and hence it is also featured in our list. With APIs, businesses can choose to transfer their data to the Cloud or can keep it on their on-premise system based on their preferences.
Some questions that you can ask the cloud vendor if you are looking for assistance:
How to integrate SaaS in the existing system?
Is it possible to integrate the conventional system in use?
What about privacy and security of data?
Martech 
Marketing technology means a number of tools that allow businesses to improve their marketing campaigns by offering real-time data, creative content and improved process. After COVID-19, more businesses have taken the digital approach and hence Martech has become more important to offer something new to the customers.
By engaging in Martech, businesses can definitely work on their branding and offer an enhanced experience by joining hands with AI and ML.
Transition to PaaS
With the evolution of SaaS, most developers are now looking to prioritize customer retention more than customer acquisition and that happens through customer satisfaction.
Having said that, we are hoping to witness the transformation towards Platform-as-a-Service (PaaS) that will boost enterprises to develop bespoke applications along with their current services. Businesses like Oracle and Salesforce  have established PaaS-centric solutions to have a large chunk of the market share and there is an expectation that other businesses will follow suit.
Conneqtion Group is India's first Oracle PaaS Partners. We help businesses to leverage the PaaS evolution and enable them to successfully scale at speed. If you are looking to take the benefits of PaaS, then get in touch with us by leaving a comment down below or contact us on business@conneqtiongroup.com.
Client Retention and Churn
Due to the enhancement of SaaS, there are better ways to improve your core services and offer a rich experience to your customers. Hence, there are multiple platforms with custom features and tools that can be used to offer personalized services to the customers. This will definitely help you with retention and churn as customer expectations have skyrocketed and due to the wide range of options, it is apt that businesses do not miss out on providing something unique to the customers.
Emerging Cross-Platform Tools
The next on the list is the rise of cross-platform tools in 2022. Modern businesses are looking for better organization, consolidation, quality reports from their service providers and hence digital tools will definitely see an upward growth in 2022.
Document management tools allow multiple team members working in different locations to collaborate on a project without impacting the final output. Same is the case with digital asset management and SaaS vendors are aware of this fact. So, in 2022, this trend will definitely flourish to its maximum capacity.
Low-Code Abilities
SaaS platforms have become popular in the recent times due to the rising need for low-code and no code development platforms which allows small businesses to build a digital platform at low-cost.
Software-as-a-Service platforms have emerged due to the need of "white labeling", 'no code', and 'low-code' platforms. 
Some of the reasons why businesses opt for these options include:
Looking for digital enhancement and innovative solutions.
Provide real-time assistance to the customers.
No need of hiring a dedicated IT team.
Safeguard the business against any major technological shift.
Improve business processes and provide personalization to customers.
Conclusion to SaaS Trends 2022
We hope that the above 10 SaaS trends for 2022 will help you to understand the future of SaaS in the business landscape.  Most developments have been continued from 2021 which will take the industry to the next level. These top 10 SaaS trends are definitely looking to offer a better prospective to the IT industry. The business demands today are constantly evolving and the SaaS industry is ready to tackle the challenges and provide economically viable solutions. What are your thoughts on the SaaS trends for 2022 and beyond? Let us know in the comments section. If you have any questions or concerns, you can contact us and we will be happy to assist.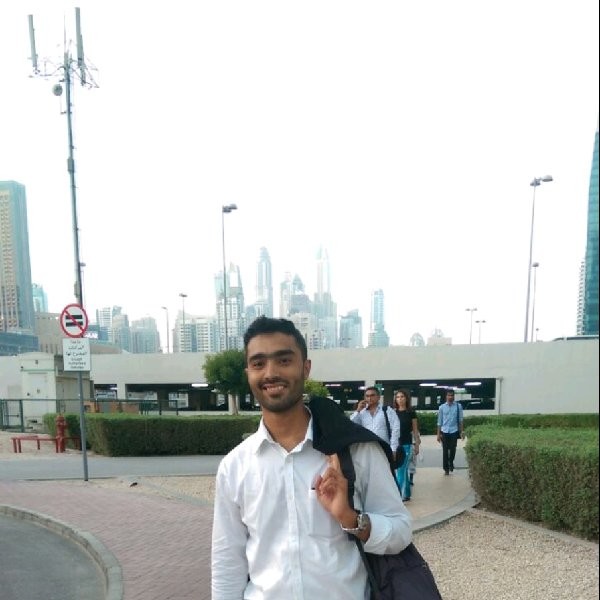 Karan works as the Delivery Head at Conneqtion Group, a Oracle iPaaS and Process Automation company. He has an extensive experience with various Banking and financial services, FMCG, Supply chain management & public sector clients. He has also led/been part of teams in multitude of consulting engagements. He was part of Evosys and Oracle's consulting team previously and worked for clients in NA, EMEA & APAC region.